Our Platform
Best Citizenships (BC) is the first online comparison platform for the Citizenship by Investment (CBI) and Residence by Investment Schemes (RBI) industry.  We are one of the oldest and proudly serving the CBI/RBI industry since March 2011, also the earliest established platforms, when the whole investor immigration industry started and we need no introduction.
Our platform directly connects clients and Government authorized law firms and real estate developers, directly without of intermediary agents for citizenship and residency matters. Read here
We work with our trusted partners, who are consultants, law firms and real estate developers, approved and authorized by Governments. Our expertise is of world class, with the best professional advice to HNW clients for a number of years.
Over the years, we have assisted very wealthy HNW clients and families in global residency and citizenship solutions. We work with Government authorized agents, law firms and real estate developers across 30 countries.
Best Citizenships is founded by Mr. Balakrishnan, who is world's leading expert in Citizenship by investment and Golden visa residence schemes. For almost a decade his expertise and valuable knowledge have benefited numerous investors and their families.  He also founded startups such as World Citizenship Council (WCC), Citizenship Shop and Citizenship by Investment Journal (CIP Journal) for the CBI industry.
As of today, we have had assisted hundreds of satisfied clients, helped Governments raise investment revenues in millions of dollars through CBI/RBI schemes in Europe, Caribbean and other parts of the world.
Why use Best Citizenships platform?
The World is changing fast with new technologies find their way into businesses. Platforms like Uber, Airbnb are changing everything, so as our BC platform for the CBI industry.
So, why use Best citizenships platform instead of Agents?  Using our platform has many advantages for clients.
We directly work with Government authorized agents and clients dont have to go through chain of intermediaries/agents.  This way it is cheaper for you and you dont have to pay too much fee.
We directly work with property developers, so clients investing in real estate dont have to pay inflated broker fee or property costs. We are compensated directly by real estate developers and we dont charge any fee to our clients.
We directly engage our clients with our trusted and authorized law firms by Government in terms of documentation and paperwork. This way processing times gets much faster, it doesn't go through agents.
You can also make payments directly to the Law firms/ Authorized agents we work with confidence. You can negotiate prices, without our consent. We get compensated by law firms we work with as percentage of lawyer fee.
History
During our early years, we were searching for best citizenships to buy through investment schemes. That is how we coined our name Best Citizenships (BC) and today were are one of the recognizable brands in the CBI industry.  Back then Dominica and St Kitts and Nevis were running passport schemes, but today over 10 countries run citizenship for sale schemes and the demand for passports is greater than ever.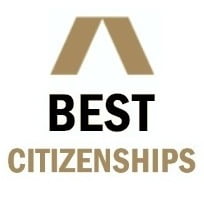 Best Citizenships is now part of Yellow Network, of one chain and one network of startups for the CBI/RBI industry.
We also have introduced new brands for the CBI Industry.
Passport Market
Almost Half of the world countries have worst passports, restricting mobility and travel freedom for its citizens. Visa restrictions affect millions of people worldwide, impacts tourism and business and these industries have lost billions of dollars with slow growth. Wealthy people and their families also go through this time consuming process. The rich and the wealthy are looking to have a second passport with alternative citizenship in their portfolio. In a survey, one in three wealthy persons already hold a second passport and another third are considering to acquire one.
CBI Industry
CBI industry is already worth $5 billion and RBI industry is double the size of CBI which is worth $10 billion in 2018.  Both the CBI/RBI industries are expected to grow to $20 billion by 2020 and have contributed significantly to economy of Portugal, Greece and Cyprus to recover from debt and increase in surplus.
News or Media
We are featured in the following publications.