Albert Einstein, despite being a well known scientist actually three main citizenships (German, Swiss, American) in life. He was Swiss-American dual citizen when died in 1955. Infact, he remained stateless for five years years, going through some difficult times.
Albert Einstein Citizenships
Kingdom of Württemberg  German Empire (1879–1896)
Stateless (1896–1901)
Switzerland (1901–1955)
Austria during the Austro-Hungarian Empire (1911–1912)
Kingdom of Prussia during the German Empire (1914–1918)
Free State of Prussia (Germany, 1918–1933)
United States (1940–1955)
Source: Wikpedia
In 1899, Albert Einstein at the age of 16, renounced his German citizenship fearing for being accused of desertion, if not reported for conscription (military service) by the age of 17. After some frustrating years in teaching post in Switzerland, he received swiss citizenship in 1901.
He paid a total of 600 swiss francs for his to become a swiss citizen (400 francs for federal and 200 francs for zurich canton). He avoided conscription for medical reasons. He paid military service exemption tax to the Swiss Army, His swiss passport is displayed for public at the Bern Historical Museum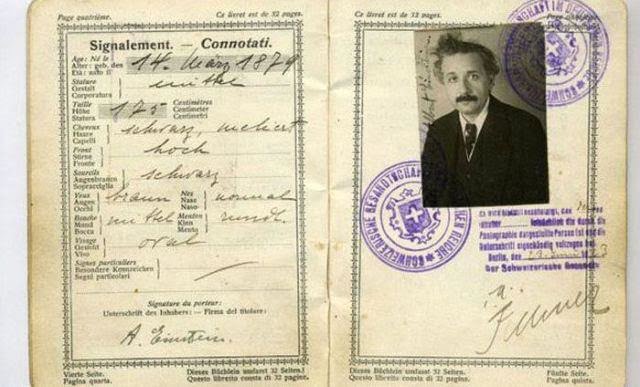 Passport Issued in 1913, Swiss Embassy in Berlin
Einstein also had a German diplomatic passport, he used it to travel to Latin America and United States.
Einstein considered himself a citizen of the world. Albert Einstein described himself as a world citizen and supported the cosmopolitan idea throughout his life, famously saying
Nationalism is an infantile disease. It is the measles of mankind.
Einstein traveled extensively throughout his life. Because of Einstein's travels to the Far East, he was unable to personally accept the Nobel Prize for Physics at the Stockholm award ceremony in December 1922.
When Einstein Japan for the first, he gave the note to a courier in Tokyo in 1922 instead of a tip, when he did not have money to give him. It sold for an auction for $1.5 million in 2017. The note famously said
A calm and humble life will bring more happiness than the pursuit of success and the constant restlessness that comes with it.
For more research into the history of citizenships held by Einstein, please refer to Einstein archives