Important changes in Portuguese Golden Visa scheme that may be applied from January 2021, Lisbon, Porto and coastal will be a restricted areas for real estate investments.
This could be the last chance to invest in Lisbon and coastal areas.
Earlier the government has announced that no new changes will be implemented until the end of 2020.
State Budget Legislative Proposal for 2020 which was discussed in the Portuguese Parliament was approved on February 4, 2020. However, the Government will likely approve the decree- law during the year of 2020 (postponed due to pandemic),  entering into force on January 1, 2021.
Portuguese authorities have entered talks once again to decide whether to pass this legislation in early 2021.
The Property developers have warned this measure could cost 700 million euros per year to the Portuguese economy especially during pandemic times, when more investments are expected into the country.
The Real estate promoters and developers association (APPII) has proposed one year transitional period to the government before this law is implemented.  RPII has also suggest to increase the golden visa investment ot €650,000 instead of €500,000
If the legislation is approved, Visas will only be granted to those who invest in inland regions.
Portugal also faces an increased pressure from European Union to end golden visa scheme against the backdrop of money laundering, tax evasion and corruption allegations.
Below is the map showing government proposal for law changes and inner regions eligible for real estate investment excludes major cities Lisbon, Porto. Algarve and coastal areas not confirmed yet.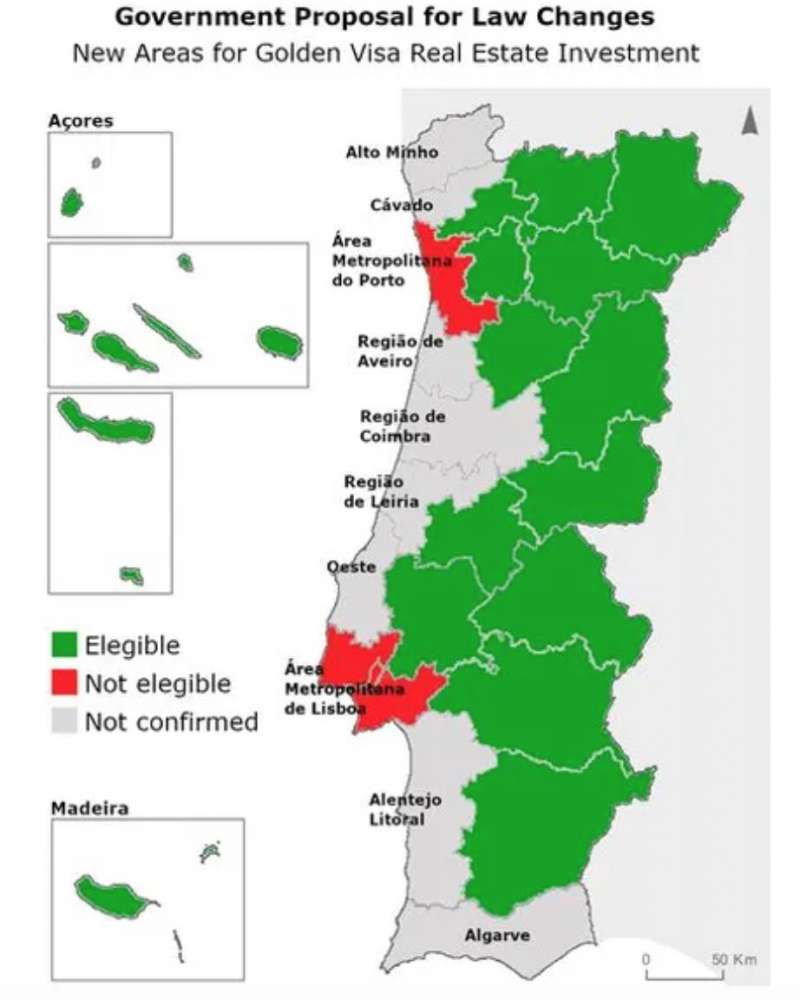 Credit: Belion Partners
The Portugal golden visa scheme is the main driving engine of real estate sector, which represents 15% of the national GDP.
The Golden Visa scheme brings 700 million euros every year plus contributes 85 million in revenue for the State in direct taxes

– APPII
From 2012 to 2020, SEF statistics shows, a total of 5.5 billion euros have been invested through gold visas. A total of 8,700 residence permits have been issued to real estate investments.