Canada opened immigrant investor scheme in 1984, one of the oldest and most popular golden visa schemes in the world.
Canada is the most popular immigrant destination for HNW families.  Canada offers the best quality of living, with world class health care and education. Canada is a diverse multicultural country with strong economy. Some of the best universities in the world are in Canada.
The Quebec Immigrant Investor Program is most popular path to become a permanent resident in Canada. Once selected, any new Canadian resident under any of the Quebec Programs may choose to reside in any Province of their choice. The QIIP also provides path to Canadian citizenship after three years of living in Canada.
Canada in 2018 announced new changes to quebec immigrant investor scheme and new changes were published in the official gazette
Why Quebec IIP?
Quebec is world's best places to live, work, study and do business, the most populated province in Canada
Montreal is the second biggest city in Canada with predominantly french speaking population
Excellent public and private healthcare system.
Families can live anywhere in Canada
Québec has one of the lowest tax rates on corporate profits in North America.
Strong Quebec economy with affordable living costs for economic immigrations
Active and lucrative real estate market
Quebec has best universities like McGill and Concordia for education
QIIP offers easy path to become Canadian after 3 years
Canadian passport is one of the best and most powerful passports in the world in terms of visa free access
New Investment Requirements
To be eligible for the Investor Program, applicants are required to meet the following conditions:
Investment minimum: Intend to settle in Québec and sign an agreement to invest C$1,200,000 with a financial intermediary (broker or trust company) authorized to participate in the Investor Program.This passive investment is guaranteed by Quebec government and hence, it is risk-free and can be financed. There is no requirement for job creation. Financing allowed (see below)
Settle in Quebec: Applicants must intend to settle in Quebec when applying for this program
Net Assets: Have, alone or with your accompanying spouse or de facto spouse, legally acquired net assets of at least C$2,000,000, excluding any amounts received by donation less than six months before your application is submitted
Business experience: Have management experience in a legal farming, commercial or industrial business; in a legal professional business whose staff, excluding you, occupies at least the equivalent of two full-time jobs; in an international agency; or with a government or one of its departments or agencies. The management experience as the exercise, for at least two years in the five years preceding the application for a selection certificate, of duties related to the planning, management and control of financial, human or material resources under your authority. This does not include experience acquired in an apprenticeship, training or specialization leading to a diploma.
Once the application is approved, a Quebec Certificate of Selection is awarded, using which he/she can apply for permanent residence in Canada.
Update: The Application intake of permanent selection applications under the Immigrant Investor Program has been suspended from November 1, 2019 to March 31, 2023 in order to allow time for the program to be reviewed.
Application Fee
As of
January 1, 2019
Principal applicat
CAD$15,496
Spouse or de facto spouse
none
Each dependent child
none
French language
There is no French speaking requirement to qualify, but investors who speak French are also provided priority processing and are not subject to the program cap of 1900 applications.
Taxes
Canada does not have a wealth tax or inheritance tax, and individuals who are accepted for immigration to Canada through Quebec's Investor Program.
Canadian citizens and Canada PR card holders who are considered a non-resident of the country for tax purposes can also avoid paying tax on income derived from outside of the country.
There is a five-year tax holiday for immigrants. Tax planning must be arranged before applying for permanent residence in Quebec. To benefit from this tax holiday, immigrants must transfer their assets to a foreign immigration trust.
Financing option
We now offer financing option with a fixed fee option for USD 265,000 (or CAD 350,000)
Limited opportunity!
Applications will also be assessed on other factors, such as your age, education and language skills.
Maximum number of applications
According to Quebec government, A total of 1900 applications will be accepted of which a maximum of 1,235 applications from foreign nationals from the People's Republic of China, including the administrative regions of Hong Kong and Macao, will be accepted.
The rules regarding the maximum number of applications that can be received do not reflect a change in Québec's immigration objectives.
Immigration
Program

Maximum number
of applications
to receive

Application
intake
period

Business immigrants
1 900**

Suspended until Jul 2020
If you have advanced intermediate knowledge of French oral expression and oral comprehension demonstrated by submitting results of a standardized test recognized by the Ministère, you may submit an application under one of the programs for business people (investors, entrepreneurs, and self-employed workers) at any time until October 31, 2019. Your application is not subject to the rule on the maximum number of applications that will be received or the application intake period.
A maximum of 1,235 applications from foreign nationals from the People's Republic of China, including the administrative regions of Hong Kong and Macao, will be accepted.
Eligibility
The Minister selects a foreign national as investor if the foreign national meets the conditions provided for in the investor program.
An investor is a foreign national at least 18 years of age who settles in Québec to invest in Québec. The Minister selects a foreign national under the investor program if the foreign national
(1) has experience in management;
(2) has, alone or with the accompanying spouse or de facto spouse, net assets of at least $2,000,000 whose lawful origin must be demonstrated;
(3) makes a 5-year term investment of $1,200,000 with a subsidiary of Investissement Québec for which the foreign national has entered into an investment agreement with a financial intermediary bound by an agreement with the Minister and the subsidiary and that will be the foreign national's mandatary in Québec;
(4) obtained the passing score provided for in the Regulation respecting the weighting applicable to the selection of foreign nationals in the awarding of the points in respect of the factors and criteria provided for in the Selection grid for the economic class in Schedule A
Canadian Citizenship
The Government of Canada introduced a new bill in 2017 cutting the citizenship time from five years to just three years
Canada Passport
The passport of Canada is sixth best passport in the world with visa free travel to 185 countries in 2018.
Statistics
According to the Quebec immigration statistics, since 2006, a total of 40,380 visa admissions were approved under the Quebec immigrant investor program with over 90% applying from Asia lead by chinese.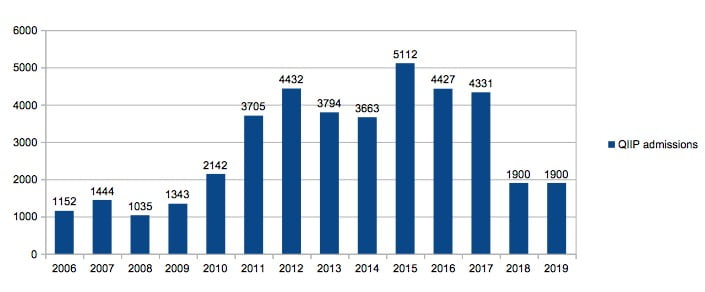 93% of QIIP investors selected Montreal as their destination.
Top countries applying for Quebec Immigration scheme
China – 52.00%
Iran – 17.30%
Pakistan – 5.40%
India – 2.60%
Egypt – 1.80%
FAQs
These are frequently asked questions about immigration to Canada and Quebec investor program.
What is the current processing time?
Please allow 9 to 12 months to receive a Quebec Selection Certificate (CSQ) after approval. The processing time depends on volume of selection applications received from various countries and territories
Allow another 18 to 30 months to receive permanent resident visa
All in all, in total please allow 30-40 months from filing to immigrate to Canada
Does this scheme offer immediate permanent residence status in Canada?
Yes
How many visas are issued by Quebec for investors?
1900 visas for investors. The application intake period opens every year.
How much a house costs in Quebec?
Average price is $300,000. In Montreal it is slightly higher $325,000. This is relatively cheap compared to prices in British Colombia $750,000
What benefits francophone immigrants get?
You get priority processing skipping queues, and 1900 limit is waived.
Who can qualify as family members?
Main investor, spouse and children under 22 years old can obtain a Canadian permanent resident visa. 
How can i prove personal net worth?
You can prove net assets in the form of bank account, real estates, company shareholding, gifts, inheritance, divorce settlement etc. of at least C$2 000 000 obtained legally.
What is the investment holding period?
5 years
What does it mean by management experience?
You must have two years our of five years, a business management experience in planning, management and control of financial, human or material resources.
Activities such as apprenticeship, training or specialization leading to a diploma is not considered.
What types of investments accepted?
A CAD$1,200,000 worth of Risk free investment, for a five-year term is guaranteed by the Government of Québec (Government bonds, securities and stocks)
Can i invest in real estate under this scheme?
No, passive investments such as buying residential properties do not qualify.