As Covid-19, spreads like wildfire across the US, over 90% of countries placing entry bans on Americans from traveling. With the US passport lose its shine and passport power, many americans are forced to think about alternative options in foreign countries.
The fear of uncertainties and fear of more lockdown restrictions is forcing more americans to think about the importance of citizenship and residence planning abroad for the future.
You can see below the travel restrictions on US passport holders due to Covid-19.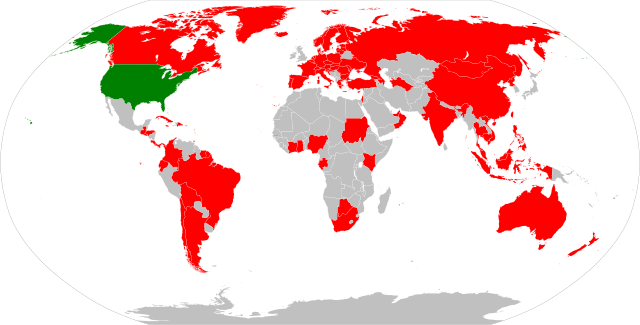 Source: Wikipedia
At Best Citizenships, we have seen a spike in visitors from US accessing our website. Our website statistics on visitors shows one in four visitors accessing our website are Americans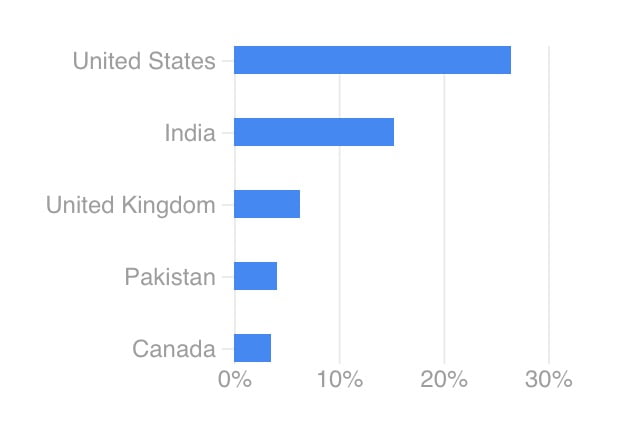 US citizens traveling abroad
On August 6, The State department has announced lifting of travel restrictions on US citizens traveling abroad to level 3 advisory (reconsider traveling) and Level-4 full restrictions remains on some countries (eg. Iran, Brazil, India)
EU countries – Level 3 (reconsider travel)
Caribbean (St Kitts, Grenada, Dominica, St Lucia, Antigua) – Level 3 (reconsider travel)
Top 10 Popular Countries for Americans
We have put together a list of top 10 countries where americans are looking at citizenship and residence options abroad by investing. These countries tend to remain the world's safest countries and largely remains Covid-19 free countries effectively managed to control the pandemic.
Please checkout our colorful video.
1. Spain
The proximity of spain to west coast of US, warm sunny weather and large number of people in the southern US already speak spanish, attracts americans seeking second residency in spain. The Spanish golden visa scheme offers quick residency if you buy a real estate for 500,000 euros anywhere in spain. Visas for residency are approved within couple of weeks.
2. Portugal
Portugal will give you a golden visa if you buy a real estate in rural areas for 280,000 euros. If you buy in Lisbon or major cities, the minimum threshold jumps to 500,000 euro. There are several investment routes available besides investing in real estate.
Portugal only requires you to spend one or two weeks  every year and citizenship is possible after 5 years exempting investors from strict residence requirements. You will need to pass A2 language test.
3. United Kingdom
If you are wealthy enough to invest GBP 2 million, UK will grant you quickest entry clearance for three years in just 2 weeks for investors under tier1 category. UK has the fastest golden visa scheme in the world, as far as we know.  It is impossible to ignore London for an iconic business and wealth destination for HNWI.
4. Malta
The small mediterranean island of Malta is a dream country for many americans and this country is quite popular with high spending US travelers. It is the cheapest golden visa program out there in Europe, as far as we know through financing Government stocks and bonds
5. New Zealand
New Zealand is a very beautiful and wealthiest of the nations in the world offering a world class living standards. This country has been very successful in tackling the pandemic. There is a investor visa category that offers a easy path for residence and citizenship in New Zealand thereafter. We recommend this for HNWI who want an exclusive tailor made program but it does not come cheap.
6. Greece
Greece is a stunning southern european country and greek islands (eg. Santorini) visited by millions of travelers every year. Greece will give you 5 year permanent residence status if you buy a property for 250K euros in Greece with exemption of VAT and other benefits. It is the most attractive property investment program out there in Europe.
7. Germany
Germany is undoubtedly is the best country in Europe to live, work and do business. You should know Germany has no golden visa scheme. The only way to access Germany is through business route (active investing). It is also a cheapest program if you know how to do business. There is 30K euro law firm fee to assist you and on top of that you have to make atleast 30K to 50K investment in your company. That's about it.
Germany will you citizenship after 8 years of living in the country. There is no quicker way to do it for foreigners. Germany has the best citizenship and a powerful european passport in the world. The German passport owners are proud owners.
8. St Kitts and Nevis
This small richest caribbean country invented citizenship for investments back in the 1980's.  If you are a fan of the Caribbean, fancy living or visiting frequently other caribbean countries, then St Kitts citizenship is the best bet for you. St Kitts is now offering Special Covid-19 discount to passport investors in order to survive through pandemic period. It is also one the powerful passport in terms of visa free access, issued by CBI countries.
Prices start from $150,000 onwards
9. Saint Lucia
Saint Lucia is stunning caribbean paradise, well known for cruise arrivals of holiday makers and honeymooners. Saint Lucia is issuing Covid-19 state bonds in exchange for citizenship for life. You should be able to buy minimum $250K state bonds issued by government, returned to you fully and safely after 5 years. Investing in state bonds can be the best pandemic investment at times when real estate and markets are in record lows.
There is also cheaper option of $100K if you donate this money one time to the state fund.
10. Cyprus
If you have 2.1 million euros ready to be invested in real estate, think about Cyprus, a warm mediterranean country. This country will you EU citizenship in about 6 months after the investment. It is the fastest EU citizenship program out there as far as we know. There is no way to become a EU citizen, without living for 5 years in any of the EU countries. Malta IIP is an exception takes 1 year through investing at half the price of Cyprus.