Vanuatu permanent residency may be attractive for some foreign investors who are looking to residency rights in Vanuatu and dont want citizenship. The PR card is also possible without visiting or living in Vanuatu.
Permanent Residency is possible immediately in Vanuatu upon buying a real estate or in agriculture land for USD 90,000 (Vt 10 million) or proving a monthly income of USD 2,500 for retirees.  There additional costs for receiving permanent residency are $10,000 for one person and $12,00 for family.
Permanent Residence
There are two types of permanent residence visas according to Immigration office of Vanuatu. There is a Vt 300,000 fee per application charged by Government.
1. Part A, subclass 131
Subclass 131, this visa product can be granted to any one that his/her parents are Ni Vanuatu or Ni Vanuatu descent or anyone who has been residing in Vanuatu for the last 12 month and have to apply to the office of the director of Vanuatu Immigration Services using VIS prescribed Form 3-0 that is available in this website.
2. Part B, subclass 132-135
This Visa product is establish to accommodate any serious investor who seriously intended to invest in Vanuatu however, the benefits are more gorgeous compare to the normal Vanuatu resident visa since the requirements are tough and any interested applicant must apply to the office of the director of Vanuatu Immigration Services using VIS prescribed Form 3-1 that is available in this website.
PR Green Card
Vanuatu issues fastest permanent residency green card within one day.
No investment required. Processing time is just 5 days.
The PR card is issued under  the Immigration law of the republic of Vanuatu under the Visa regulation order No 180 of 2011, clause 12 (6) and schedule 4.
You must be over 18

You must have a valid passport

You must have a police clearance

You must have asset proof of USD 350,000 or more

No investment, no personal visit required and no residence requirements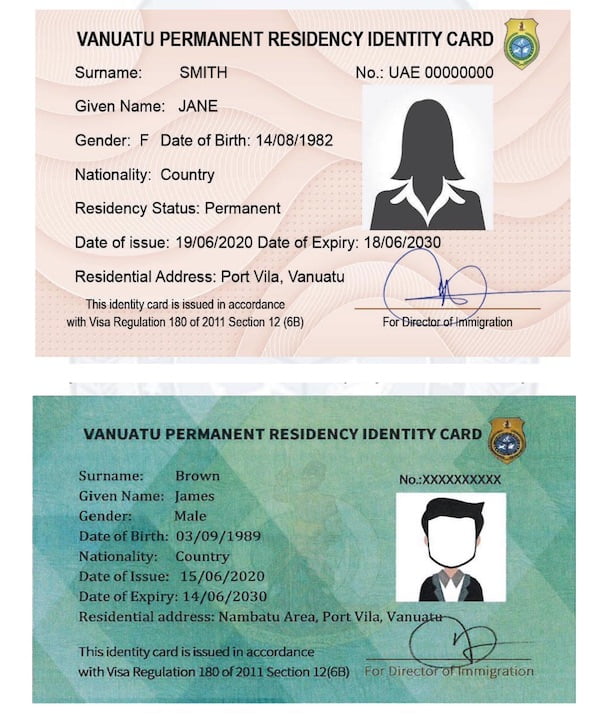 Residence Visas
It is also possible to obtain 1 year residency if you have enough income to cover your costs or you invest $50,000 (land owner visa). Vanuatu issues three types of residence visas.
1. Self-Funded Visa
2. Land-Owner Visa – USD
3. Investor Visa
Land owner visa
Vanuatu also offers Land Owner Visa for one year if you invest atleast USD 90,000 (Vt 10 million) . If you wish to settle in Vanuatu and lease real estate, you can apply for a Land Ownership visa. Note that lands in Vanuatu are not freehold. Properties can be leased for up to 50 years for residential lots and 75 years for commercial ones
Foreigners can freely invest in Vanuatu real estate or in lands. A 'financial reference' and a 'professional reference' from a local firm, for urban purchases. No permission from Vanuatu Investment Promotion Authority (VIPA) Investor's Certificate or a business license to buy property in Vanuatu. There is a 2% stamp duty and 5% registration fee. (4% in case for companies). 15% VAT is exempted for buyers of residential properties.
Foreign Investor visa
You can get this visa if you Invest atleast $50,000 in a project approved by the Vanuatu Investment and Promotion Authority (VIPA) and have a investment certificate as a Foreign Investor. the foreign investor certificate issued by VIPA indicates that you will be operating a business in Vanuatu, a business license issued by the relevant official body.
Self Funded Visa
It is nothing but a self employment visa ideal for expats and retirees who have pensions.
All visas require proof of earning. The general rule to prove source of income is you need to show. 250,000 Vatu per month for single person or 500,000 Vatu per month for families
Citizenship
Citizenship in Vanuatu through naturalization possible after 10 year of living in Vanuatu under this option or fast tracked citizenship within 2 months is possible through DSP-VCP programs
Taxes
Vanuatu is a pure tax haven. There are no income, corporate, wealth or inheritance taxes in this pacific island. Vanuatu is particularly popular for offshore company formations.
How to Apply
All foreign nationals who are interested in applying for 10 years Permanent Residency under the PR program, that Vanuatu government has appointed the two companies to issue the Permanent Residency card on behalf of the government.
Immigration Vanuatu will not accept any application that is lodge directly to the department for a permanent residency visa without residing in Vanuatu