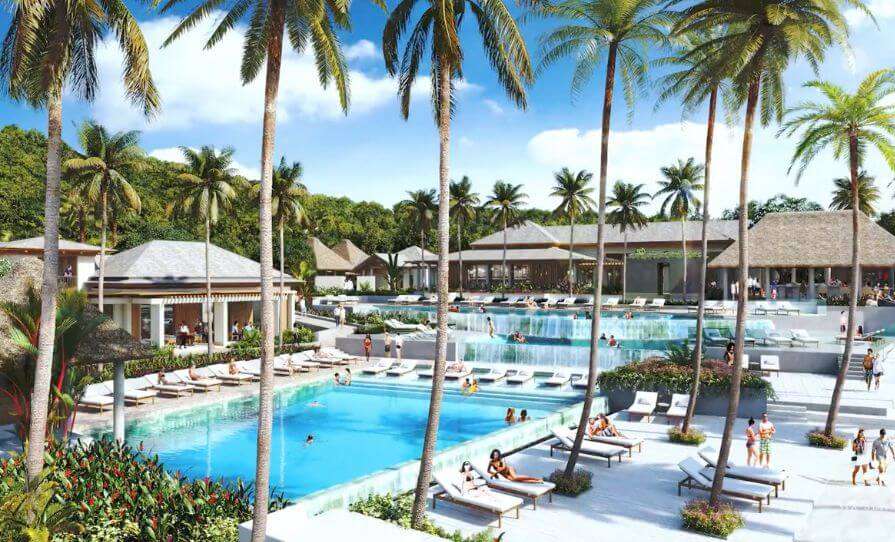 Six Senses Resort at La Sagesse, Grenada can be reached within a 15 minutes' drive from Grenada's international airport. The resort is nestled among gentle hills rolling down along a dramatic crescent-shaped beach, considered by many as one of the best in the Caribbean. Six Senses resort will deliver 100 rooms in guest suites – each with their own private entrances and personal horizon plunge pools. In all, 30 pools will spawn 28 acres of verdant terrain, which also boasts luxurious villas complete with 270 degree views of the undulating hillside and the resort's twin beaches. All rooms at the Six Senses La Sagesse, Grenada will enjoy sea views with private plunge pools in an unspoiled environment ensuring total relaxation and tranquility.
The Six Senses resort is an approved project by Grenada CBI unit under the Citizenship by real estate program. An investment of atleast $220,000 required to purchase a share or $350,000 to get full title deed in the project. Investing in Six Senses La Sagesse, Grenada will entitle you and your family to apply for citizenship of Grenada through a government approved program. It's an investment that will leave a lasting legacy. Shares in the ownership company of the resort are now available for purchase through Grenada's Citizenship by Investment Programme.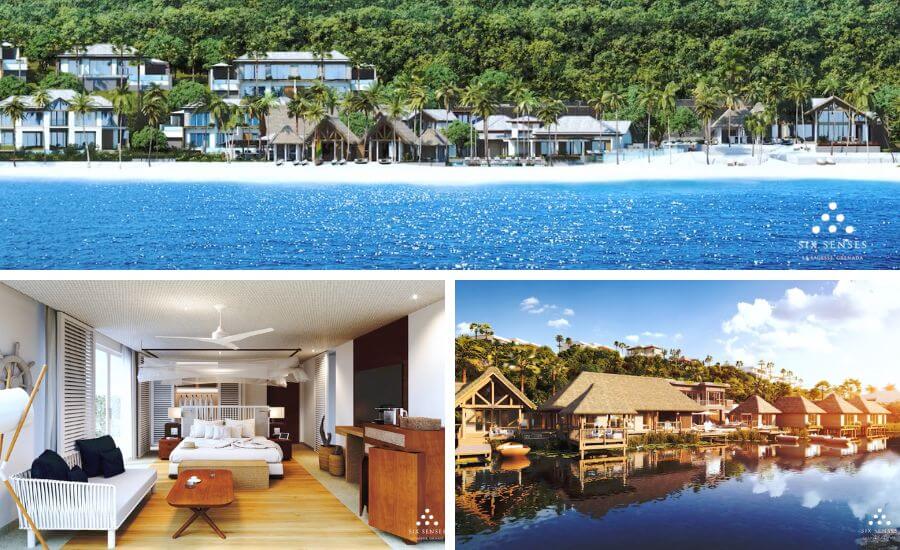 Range Developments the developer of Six Senses resort has the most successful luxury hotel developer of luxury CBI real estate projects in the Eastern Caribbean with a successful track record in Dominica, St Kitts and Grenada.
Advantages of Grenada Citizenship
• Citizenship is passed down through generations.
• Applicants are not required to visit or reside in Grenada.
• Grenada's passports are issued within approximately 90 to 120 days of filing an application.
• A tax-efficient jurisdiction.
• Citizens of Grenada may travel visa-free to more than 130 countries, including the United Kingdom, Russia, China, Schengen European countries and most British Commonwealth countries.
• Citizens of Grenada are eligible to apply for the US E-2 visa.
• Citizenship includes full residency status and the right to work in Grenada.
• Dual citizenship is permitted without any requirement to notify the applicant's home country.
• Exit options provide the ability to realize capital gain and income generation on investment (or shares can be sold after five years)
Share Benefits
14 nights annually at Six Senses La Sagesse
Performance-based annual returns
Ability to sell the share after 5 years and recover some of the investment
Total Costs: Family of Four (Share + Citizenship)
Cost of share: $220,000
Government fees for the main applicant, a spouse and 2 dependents: $50,000
Due Diligence fees: $10,000
Application fees: US $6,000
Processing fees: US $4,000
Share registration fees: US $8,800
Passport fees: US $1,000
Oath of Allegiance: US $80
Total: $299,880
E-2 Visa: You can apply for US E-2 visa by investing at least USD 100,000 in US economy creating jobs. The costs are additional
Grenada Citizenship + E-2 Visa: The total investment required starts from  $400,000 plus small costs.