The Government of Saint Lucia will start issuing new electronic passports from July 25, 2022 which will replace the current machine readable passport, according to new government announcement. The passport fee has been set at EC$250 per passport for a period of five years. The approval for the amendment of passport fees came after Cabinet met on Monday, July 11.
The Department of Home Affairs is working along with the Immigration Department, CBN and the Saint Lucia Border Control Agency to ensure that the e-passport goes live on Monday, July 25.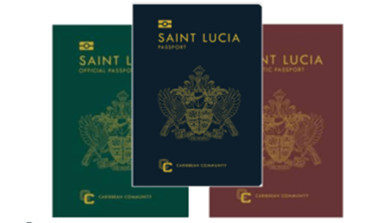 New Saint Lucia E-Passport issued from July 25, 2022. The inside visa page features unique scenary with St Lucia. 
The new electronic passport features the latest technology in anti-counterfeit security measures, contains a microchip that is embedded in the rear cover of the booklet and adheres to modern international travel standards. In 2007, the government of Saint Lucia took the decision to support the introduction of machine readable passports. In March of that same year, the Saint Lucia Immigration Department began to issue these passports.
e-Passports are internationally recognised as a more secure form of travel document. A number of CARICOM countries already upgraded their passports to electronic ones. More than billion people around the world use e-passports for international travels.
The new e-passport schedule is as follows:
The e-passport is at $250;
Replacement of passport before expiry date is at $300;
Expedited or emergency services remains unchanged at $50;
Issuance of collective travel documents is at $75;
Issuance of certificate of identity remains at $50.
Permits for each extension of residence not exceeding 30 days is at $200; live image capture is at $10; and certification and endorsements is at $20.