The common usage of ePassports have exploded over the years with rise in travel and tourism.
ePassports are an important security feature to protect against fraud, misuse and abuse of passports.  It has several names, commonly known as an e-passport, ePassport, or a digital passport. Passport security have come a long way since the first photographic identification appeared in 1856 and evolved over centuries.
In 21st century, ePassports have become must own novelty item, a highly sought after commodity,
In 1920, the League of Nations held a conference on passports established common standards. The passport format defined in 1920 is unchanged. The booklet size is the familiar B7 format (125 × 88 mm or 4.921 × 3.465 in).
More than 150 States and non-state entities (i.e. United Nations) currently issuing ePassports, and over 1 billion ePassports in circulation.  The ICAO defines the formats used in electronic passports (ePassports or biometric passports) which goes beyond holograms, inks and photos.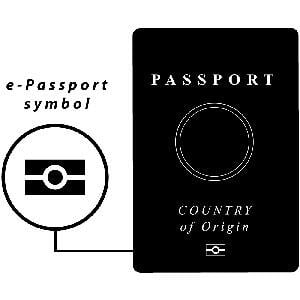 History
1998: Malaysia becomes the first country to issue an ePassport. However, it is not ICAO-compliant, as ICAO specifications won't exist until 2003.
2003: ICAO adopts machine-readable travel document (MRTD) specifications for a passport that includes an embedded chip containing the bearer's personal identification data and photo.
2004: Belgium launches the first ICAO-compliant ePassport.
2006: The United States begins issuing ePassports.
2008: only 60 countries were using ePassports.
2009: Canada began implementing ePassports. 57% of all passports issued around the world this year are ePassports (about 

60 million

).
2013: Some 100 countries around the world are issuing ePassports. Nearly 400 million ePassports are in circulation worldwide.
2017:  ePassports became more popular and secure adopted by 120 countries.
2020: Over 1 billion ePassports issued for travel by 150 countries. The cost of ePassports have become cheaper  costing about $50.
ePassports add a layer of security to traditional non‑electronic passports by embedding an electronic chip in the passport booklet that stores the biographical information visible on page 2 of the passport, as well as a digital security feature.
Biometrics is in the process of radically transforming the "passenger experience" at airports, making it not only quicker but also much less stressful and more secure.
ePassport Benefits
securely identify the traveler,
provide protection against identity theft,
protect privacy and
make it difficult to alter a document for use in gaining admission
cheaper to produce and costs remains low under $50.
The ePassports store encoded biometric data of two fingerprints, iris data, facial photo and sometimes blood type in the RFID chip. The travel history and electronic visas are also stored with electronic stamps. These are important security layers preventing impersonation (a "look–alike" presenting a genuine document.)
This digital security feature is a country specific "digital signature." These digital signatures are unique to each country and can be verified using their respective certificates.
To validate an ePassport at an international border, the border control system retrieves the Document Security Object from the chip. Its authenticity, and by implication the authenticity of the ePassport, can be proven if the signature checks against the DSC and if the DSC checks against the CSCA certificate.
ePassport gates are automated self-service barriers operated by many countries.
As of today, it has become impossible to travel visa free without ePassports. In the US alone, 11.7 million e-passports were issued for the year in 2020, compared to 20 million e-passports issued in 2019
Visa Free Travel
The United States requires that travelers entering the United States under the Visa Waiver Program have an e-Passport if their passport was issued on or after October 26, 2006.
All e-Passports issued by Visa Waiver Program (VWP) countries and the United States have security features to prevent the unauthorized reading or "skimming" of data stored on the e-Passport chip.
Common Abuses of Passport
Hide true identity
Illegal working
Immigration abuse
Benefit fraud
Financial fraud
Impersonation
Counterfeit / Forged passports
Pseudo / Camouflage / Fantasy passports
Covid Era
In the future digital identities to become substitutes for passports and other government-issued IDs. The biometric chips could pave the way to store health data (vaccinations, covid test) easily in ePassports securely to cross borders.
Passports booklets issued in the future could soon have GPS chips to easily track lost passports or facilitate replacements.
List of countries using ePassports
These countries have moved to adopting biometric or e-passports for their citizens.
European Union / EFTA
Albania
Algeria
Argentina
Armenia
Australia
Azerbaijan
Bangladesh
Bosnia and Herzegovina
Bolivia
Botswana
Brazil
Brunei
Cambodia
Canada
Cape Verde
Chile
China
Colombia
Dominican Republic
Ecuador
Egypt
Fiji
Gabon
Georgia
Ghana
Hong Kong
India
Indonesia
Iran
Iraq
Ireland
Israel
Japan
Kazakhstan
Kenya
Kosovo
Kuwait
Laos
Lebanon
Lesotho
Macau
Madagascar
Malaysia
Maldives
Sovereign Military Order of Malta
Moldova
Montenegro
Mongolia
Mauritania
Morocco
Mozambique
Namibia
New Zealand
Nigeria
North Macedonia
Oman
Panama
Peru
Philippines
Qatar
Russia
Rwanda
Saint Vincent and the Grenadines
Serbia
Singapore
Somalia
South Korea
South Sudan
Slovakia
Sudan
Taiwan
Tajikistan
Tanzania, United Republic of
Thailand
Togo
Tunisia
Turkey
Turkmenistan
Ukraine
United Arab Emirates
United Kingdom
United States
Uruguay
Uzbekistan
Venezuela
Vietnam
Zimbabwe
Source: Wiki