A historic mutual visa waiver agreement has been signed between China and Commonwealth of Dominica enabling citizens of both countries to travel freely.  This has been a great and important milestone in the bilateral relations between Dominica and the People's Republic of China
The agreement  was signed on Monday, November 22, 2021 by Prime Minister Hon. Roosevelt Skerrit and the new Ambassador of People's Republic of China to the Commonwealth of Dominica, His Excellency Lin Xianjiang.
Dominica and China formally established diplomatic relations in March 2004.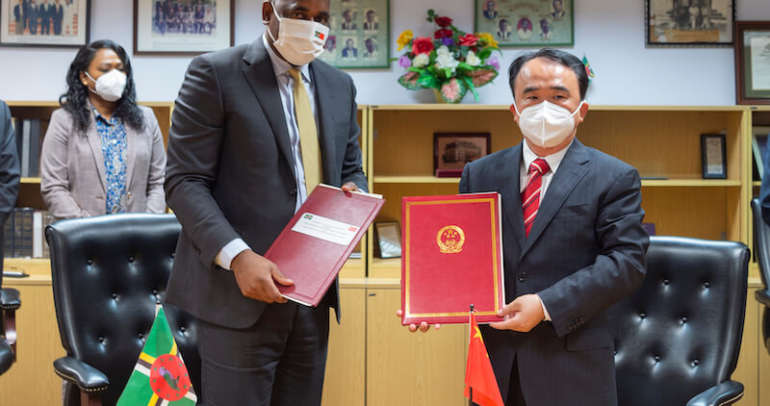 Dominican PM Skerrit stated that this is indeed a great and important milestone in the bilateral relations between Dominica and the People's Republic of China. He expressed his gratitude on behalf of the Government and people of Dominica for this significant agreement.
The visa-free agreement goes into immediate effect enabling visa free entry.
As a result of new waiver will drive new investments into Dominica from chinese nationals bolstering trade, economy and investment climate. Dominica runs a CBI program offering instant citizenship to investors who can invest atleast USD 100,000 in the islands development.  With this visa exemption, Dominican passport becomes even more powerful, with already having visa exemptions with 140+ nations. Dominica now joins Grenada for having only CBI countries having visa waiver with China.
His Excellency Lin Xianjiang explained that his agreement is being signed with the hope of increasing travel from country to country.
Usually in a pandemic, China doesn't give such privileges with the visa free agreement. But we make this special arrangement for Dominica because we see Dominica as a very important friend to us and we want to push our bilateral relations to a new height, and facilitate international travel between the two peoples.
The Dominica Government has made great strides in signing visa waiver agreements with several countries to strengthen the passport power. Dominica just had 80 visa free destinations in 2010 jumping to 141 countries in 2020, The breakthrough came when Dominica signed a mutual visa-waiver agreement with the European Union on 28 May 2015 which was ratified on 15 December 2015.
Dominica recently upgraded all passports to biometric passports in a bid to strengthen border security.