The St Kitts and Nevis passport remains the strongest CBI passport in the Caribbean and OECS region. It is also the third strongest passport among all the Caribbean Caricom nations.
The St. Kitts and Nevis passport is already one of the most powerful in the CBI industry. It may come as a surprise for many how a small caribbean country in land mass with just a population of 55,000 can have such a powerful passport.
In the past five years, 26 countries were added to list of full visa waivers, thanks to the commitment shown by government. The Government is on track to increase its power due to increased diplomatic relations and visa waiver negotiations that continue to be expanded through the work of the St. Kitts and Nevis Ministry of Foreign Affairs.
The travel unlocking capability of a St. Kitts and Nevis passport has proven to be a game changer for many developing nations, such as African entrepreneurs and professionals often held back by discriminatory passport and immigration policies.
Rise in Passport power
According to the data we collected, from just 62 destinations in 2006, the number of visa free destinations jumped to 157 in 2021 for St Kitts passport holders..
| | |
| --- | --- |
| St Kitts Passport (Year) | Visa free total |
| 2006 | 62 |
| 2010 | 121 |
| 2014 | 132 |
| 2018 | 151 |
| 2021 | 157 |
Source: Henley passport index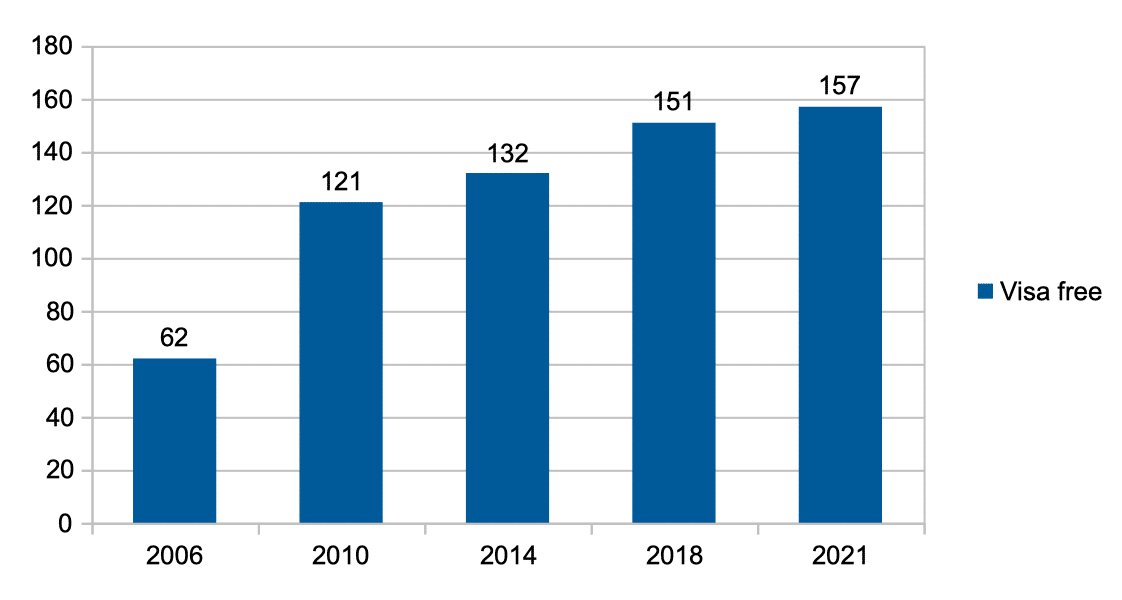 Chart shows increase in visa free countries for St Kitts and nevis passport holders since 2006 – Source: Henley index
Visa waivers
The Government of St Kitts and Nevis (GOSKN) has expanded diplomatic footprint globally and signing visa waiver agreements with several countries. This led to the increase in the passport power for St Kitts and Nevis.
It is important to note that SKN passport has no visa free access to Canada, United States, Australia and China.
Schengen Area – Visa waiver agreement signed on Jun 30, 2009
Russia –  Visa exemption signed on Sep 1, 2017
Eswatini – MoU signed 25th November 2020
Marshall Islands – October 26, 2019
Georgia – 15 July 2019
Albania – 14 May 2019
San Marino – 1 Feb 2019
Montenegro – 12 Nov 2018
Turkey – eVisa (Jan 30, 2019)
Belarus – Signed on 19 Oct 2018
Gambia – Sep 28, 2018
Rwanda – Apr 26, 2018
Moldova – March 2, 2018
India – Feb 6, 2018 (diplomatic only)
Indonesia – Sep 27, 2017
Taiwan – Jul 14, 2017
Ukraine – Sep 2016
Bolivia – Jan 25, 2017
Brazil – Signed on January 20, 2015 (came into effect on March 7, 2015.)
Source: sknis.gov.kn
Diplomatic Relations
Cameroon – June 2021
Sri Lanka – March 2021
Jordan – Dec 2020
Taiwan (ROC) – Oct 2020
Bangladesh – Sep 2020
Bosnia and Herzegovina – Dec 2019
 North Macedonia – Sep 2019
Rwanda – Feb 2019
Bahrain – Sep 2018
Togo – Dec 2018
Kyrgyzstan – June 2018
Eswatini – June 2018
Gabon – Jan 2018
Laos – Sep 2017
Qatar – Aug 2017
Ethiopia – Mar 2017
Mauritius – Nov 2016
We are proud to hold the position of the strongest citizenship by investment passport in the Caribbean for the fifth consecutive year.

– Les Khan, CEO of St Kitts and Nevis CIU
Background checks
The GOSKN applies strict background checks before issuing passports to investor applicants. Applicants with previous visa denials pose a threat to visa waiver regime, therefore not accepted for CBI.
The Citizenship Investment Unit (CIU) applies four levels of due diligence checks before application is accepted. These checks are comprised of
Anti-money laundering searches and proof of funds,
World compliance checks to mitigate financial and reputational risk,
Criminal background checks in the applicant's native country and
International law enforcement verification.
Besides these checks, all applicants for Caribbean passport programs undergo common vetting by the Joint Regional Communication Centre (JRCC)
The CIU continues to run background checks on economic citizens even after approval to ensure that applicants are not a risk for the country or our international partners.