Vanuatu has a powerful and respectable passport among the pacific island nations in terms of mobility and visa free travel benefits.
The Passport Act was passed in July 1980 for the issue of Vanuatu passports and later revised in 1988.  In the 1990's Vanuatu was among the offshore financial centers in the pacific sold passports of convenience that came with visa free benefits exempting any citizen rights.
Fast forward to 2006, Vanuatu had visa free access to less than 50 countries and territories. In just 15 years, Vanuatu passport gained more strength with the government expanding global visa waiver commitments with other countries. As of 2021, Vanuatuan had visa-free or visa on arrival access to 130 countries and territories becoming the 40th powerful passport in the world according to Henley.
The significant breakthroughs came during these periods. Vanuatu signed some important visa waiver agreements
Mutual visa waiver agreement with Schengen Area countries on 28 May 2015.
Mutual visa waiver agreement was signed with Russia on 20 September 2016 and entered into force on 21 October 2016.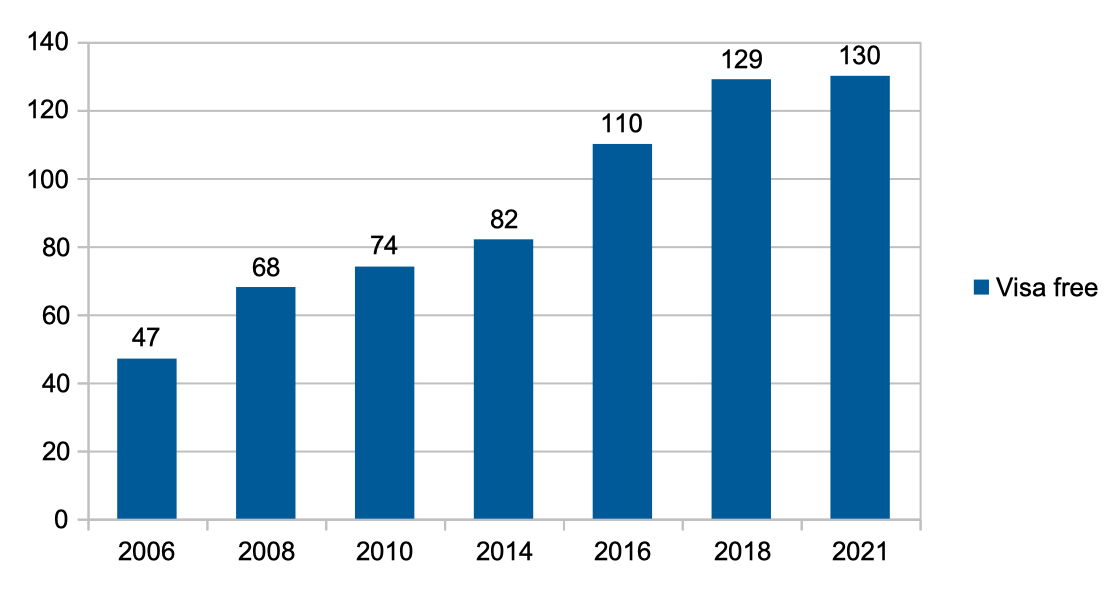 Historical chart showing visa free access for strengthening Vanuatu passport power (2006 to 2021)
| | |
| --- | --- |
| Vanuatu Passport | Visa free destinations |
| 2006 | 47 |
| 2008 | 68 |
| 2010 | 74 |
| 2014 | 82 |
| 2016 | 110 |
| 2018 | 129 |
| 2021 | 130 |
Source: Henley passport index
Here is a list of important countries where you can travel to visa free just using Vanuatu passport
United Kingdom and Ireland
Russia
26 Schengen states
Israel
EU countries (Bulgaria, Cyprus, Romania, Croatia)
Caribbean (eg. Bahamas, Dominican Republic, Barbados,)
South America (eg. Ecuador, Costa Rica, Panama, Belize)
Asia (Indonesia, Malaysia, Singapore, Hong Kong, Philippines)
Africa (Mauritius, Kenya, Egypt on arrival,
How Passport Fees Evolved
In 1980, the cost for issue for Vanuatu passport was just Vt 3000.  In 2021, the cost for issue of ordinary passport by immigration office is Vt 10,000 as below.
Normal 10,000 (up to 21 days processing time)
Express 20,000 (up to 10 days processing time)
Urgent 25,000 (up to 3 days processing time)
Why DSP program is popular?
Vanuatu is one of the most difficult countries to become a citizen. It takes atleast 10 years of living to become a naturalized Ni-Vanuatu citizen. One way for foreigners not to wait this long is pursue the investment route, which is a shortcut for fast track citizenship (takes 1 month) /passport (takes another 1 month)
Vanuatu offers fastest citizenship under DSP program, with passport for investors who pay $130,000 towards the state fund.