Portugal has approved a nationality law that makes it easy to acquire citizenship to children born in Portugal to immigrant parents after just one year of living legally in Portugal. Previously this requirement was 2 years set forth b Nationality Law, originally from 1981 and later amended in 2018.
The new nationality legislation for chidren approved on 23 July in parliament made amendments to the Nationality Law, after electronic voting by two parties PAN and PCP.  The electronic voting had 144 votes (63.4%) in favour, 82 votes against, and one abstention.
Minor children in order to apply for nationality must follow these rules
Immigrant children must be born in Portugal
Hold residence permit for one year.
Alteast one of the parents must have been resident in Portugal.
Parents must give permission to acquire citizenship for minors.
Portugal does not offer birthright citizenship to children, but one year wait is still a favorable condition for migrant children living in Portugal.
At the moment adults need to live 5 years and pass A2 portuguese language test to naturalize for citizenship. For Golden visa investors strict living is not imposed for naturalization of citizenship.
Portugal Golden Visa
Golden visa program becomes even more attractive for foreign investors. This new citizenship amendment for children, makes it attractive for foreigners interested in investing through golden visa program buying properties in Portugal for atleast €280,000
Investors children can become portuguese citizen in a short time (one year) and makes it easier for them pursue their education anywhere in the EU, US or Canada.
Record number of Citizenship applications
In 2019, SEF received a total of 74,116 requests for acquisition of Portuguese nationality, with a significant increase over the same period (+ 79.4%) according to the 2019 annual report.
Of these 68.9% were naturalization requests and out of these 68,116 positive and 2,413 negative decisions were issued (refusal rate at 3.2%. The nationality applications also received at embassies abroad 9,270
In 2015 Portugal amended its citizenship law to allow Sephardic Jews, descendants of those persecuted and expelled from the country, to obtain Portuguese citizenship.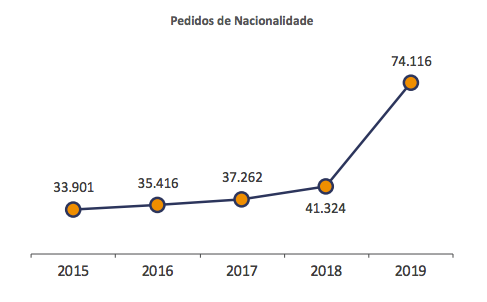 Source: SEF
Migrant foreigners from these top 5 countries lead in acquiring portuguese nationality, according to the statistics for 2019.
Brasil – 22.928
Israel – 18.433
Cape Verde  – 6.472
Angola  – 2.993
Ukraine – 2.738