Rich chinese are the biggest investors in Golden visa than than citizenship by investment (CBI) schemes, There are more important reasons for this.
Dual citizenship not allowed for Chinese PRC nationals, hence they prefer residency. A significant number of chinese dont want to renounce citizenship by naturalizing abroad.
Chinese prefer to invest in real estate in Europe for greater investment returns and Airbnb rentals.
Rich chinese prefer top destinations such as United States, United Kingdom, Canada and Australia
Education for children and healthcare are equally important along with safety and security in a trusted country.
Many Chinese prefer asian golden schemes as it not far away mainland china and dont want to frequently travel far way from their families.
Below you will find the chart of chinese who had invested in golden visa schemes..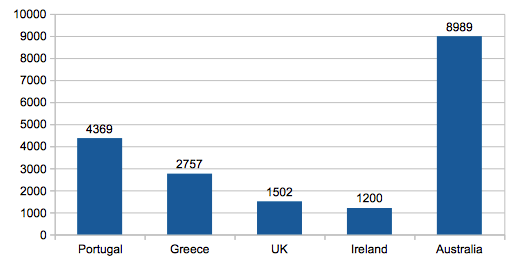 Note: EB-5 and Quebec IIP have yearly quota for chinese.
Citizenship schemes
Antigua received 721 citizenship by investment applications from Chinese from 2014 to 2018
Grenada passport scheme is preferred by chinese applicants. Over 90% of applicants are Chinese families as Grenada has visa waiver with China.  More than 2200 passports were issued to investors since the launch of the scheme.
St Lucia – Less than 50 chinese investors received St Lucia citizenship by investments.
Malta, Cyprus have small number of chinese investors applying for their citizenship schemes.
Top 10 Chinese destinations
These are the preferred immigration destinations for Chinese, according to 2018 Hurun Report. The survey shows less than 2% of chinese prefer Greece and Portugal, while close to 80% of rich chinese prefer United States and want to live American dream.
| | | |
| --- | --- | --- |
| | Preferred Destinations for Chinese | Proportion |
| 1 | USA | 79.3% |
| 2 | Canada | 24.6% |
| 3 | Australia | 14.8% |
| 4 | UK | 10.8% |
| 5 | Ireland | 7.9% |
| 6 | New   Zealand | 6.4% |
| 7 | Singapore | 4.4% |
| 8 | Malta | 3.9% |
| 9 | Japan | 2.5% |
| 10 | Greece | 2.0% |
| 10 | Hong   Kong | 2.0% |
| 12 | Spain | 1.5% |
| 13 | Portugal | 1.0% |
| 13 | France | 1.0% |
Source: Immigration and the Chinese HNWI 2018, by Visas Consulting Group and Hurun Report