Portugal is ending golden visa program by in one or two months parliamentary discussions are underway to vote on a legislation to terminate this scheme to avoid a severe housing crisis with rising costs of properties along with EU pressure to phase out all citizenship and residence schemes. It is still possible to submit Golden Visa applications before the legislation not yet been approved.
The Good news is Golden visa applications submitted until mid-July are valid. The parliamentary vote was tentatively set for July 19th. After the vote, the proposed law must be signed by the President and published in the official gazette. These steps will take at least two weeks. As a result, the GV deadline will be early October 2023.
Fast Track Golden Visa
We offer a unique fast track application process with a renowned hotel development in Portugal for last minute investor application. This is the cheapest investment we can offer to buyers. Investors must remember that it takes 2 weeks to get Portugal NIF Tax number and opening of banking accounts to start the application process. We do not offer residential properties during this last minute, as scouting, registration paperwork consume too much time (which we dont have) on top of that property registration and other taxes are high creating additional burden.
Rossio Palace
280,000€ Fully Refundable Hotel Investment (Last slots left)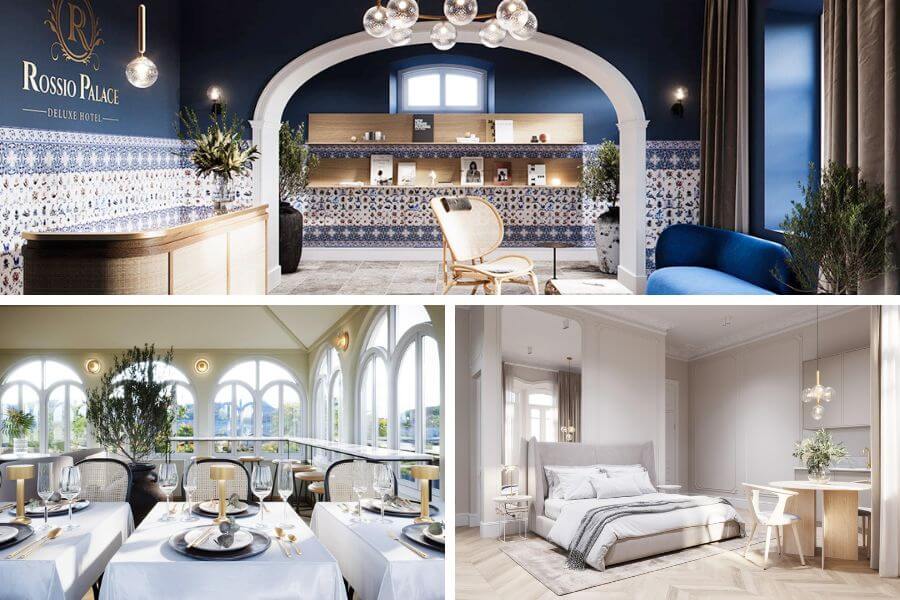 This Unique 3500 m2 project will convert the historical palace property into a Deluxe Hotel with 50 Nordic designed apartments. The interior design is Nordic, with high quality finishings (stucco in ceilings, wood windows, stone on toilets, etc.) preserving the distinctive architecture and original features. Rossio Palace is located 2h from Lisbon and next to Spain, at the center of a historical village  — dating from the Templars (Póvoa e Meadas) — and surrounded by the vast Natural Park of São Mamede, considered park with most biodiversity in Portugal.  The municipality in which Rossio Palace is located (Castelo de Vide) is considered the one (out of 308 municipalities) with the highest quality of living in the country. The climate is mediterranean, with dry summers and mild winters. Average temperatures throughout the year vary from 8-30°C. The property consists of an urban plot with a constructed area of 3,000 m2 divided between the palace (1,300 m2) and the dependencies (1,700 m2).
Deluxe Palace Hotel Project will convert existing historical palace and property into Deluxe Hotel with 50 apartment rooms
Time Reduced €280,000 Golden visa Investment instead of €500,000 (fractional share)

Become co-owner of this Historical Palace Hotel

Prime Urban location
4-6% Yield Annual
Exit strategy After 7 years (fully refundable)
Refurbishment starting 2023
Hotel operation starting 2025
Limited Availability (less than 5 slots left)
Free yearly stay in three exclusive hotels
EU citizenship after 5 years
IMT Tax (covered by developer)
VAT (covered by developer)
EU Citizenship after 5 years.
Rossio Palace was the estate of the wealthy Da Costa family, which had ties to Brazil (at the time when it was a Portuguese colony).  The rehabilitation of the palace and conversion to a Deluxe Hotel has the responsibility to preserve that rich history, while bringing a new life to the majestic property. The property consists of an urban plot with a constructed area of 3,000 m2 divided between the palace (1,300 m2) and the dependencies (1,700 m2).
Actual Total Costs
Please refer to the total fees below. The investment wont increase for family members, only
At the time, when you apply for EU citizenship, €280,000 will be refunded by developer, buyback guaranteed after 7 years. All in all, out of €296,5000 you pay, and you get back €280,000 plus 6% annual returns, the only residual cost you pay is only €16,500 for single application.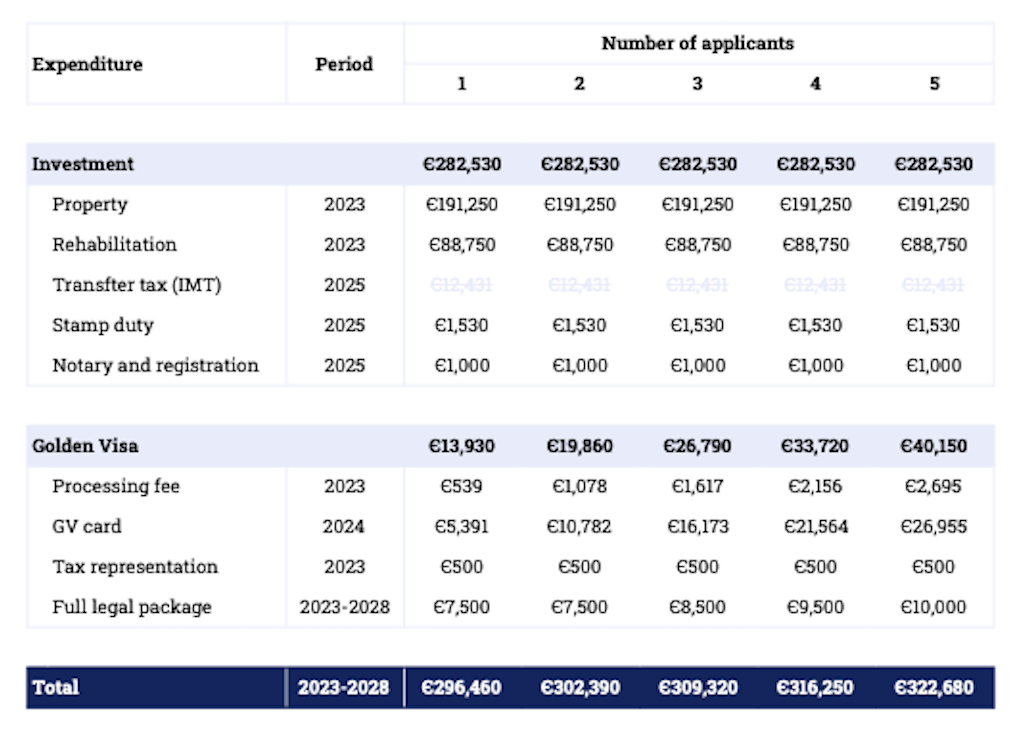 Actual Total Costs for Portugal Golden Visa
Application Process
The first 5 steps is the most important without which GV application cannot be submitted before closing of the program.
Tax ID –

Obtain a Portuguese Taxpayer ID

Bank Account – Open bank account in Portugal

Due Diligence – Conduct due diligence on investment

Investment – Sign legal pack and make investment

Application – Submit GV form and documents

Issuance – Pay fees and receive the GV

Renewal – Renew process in year 2 and 4 years

Citizenship – Receive Portuguese citizenship after 5 years

Apply Now!

Apply through Best Citizenships. Our Services are free of charge for Portugal golden visa clients.. We do charge any fee to Portugal Golden visa clients. Please reach us for a consultation.