The Saint Lucia Citizenship by Investment Programme became the youngest citizenship programme launched in 2015 within the region , with the first citizenship programme in the caribbean having been established over 35 years ago. The Citizenship by Investment Unit registered sharp increase in citizenship applications during 2021/22.
The CIP program of Saint Lucia has grown stronger and stronger every year and has attracted increased interest among international investors applying for citizenship by investment. Among the investment options, the government bond option has received more applications during covid period. The CIP unit launched limited time covid bond option at 50% discount for US$ 250,000 (subscription to government debt) to fight the covid crisis in the country. These bonds were issued interest free to citizenship applicants with lockout period of minimum five years. The 100% of the bond amount made by an applicant is remitted to the Government of Saint Lucia and managed by the Ministry of Finance. The Citizenship by Investment Unit retains the administrative fee paid by the citizen for this investment option. There is no administrative fee applicable for the regular Government Bond option.
Effective from 2023, the Government has discontinued the Covid bonds replacing with newly issued National action bonds starting from US$ 300,000 to investors. The bonds are non-interest bearing, and must be registered and remain in the name of the applicant for a five-year holding period from the date of first issue. The average processing times for bond applications reduced to 75 days at par with other investment options. Upon receipt of the Bond Certificate, the CIP Unit shall process the issuance of a Citizenship Certificate and then issue Saint Lucia passport after one week. Buy investing in state issued bonds, investors are guaranteed full return of their investment (without interest) after five year period, in exchange for permanent citizenship for life.
According to the Annual CIP report for 2021/22 published by the Government, USD 17.1 million was received and remitted to the Government of Saint Lucia for the Special Covid-19 Bonds. About 12.8% of applicants preferred investing in government bonds.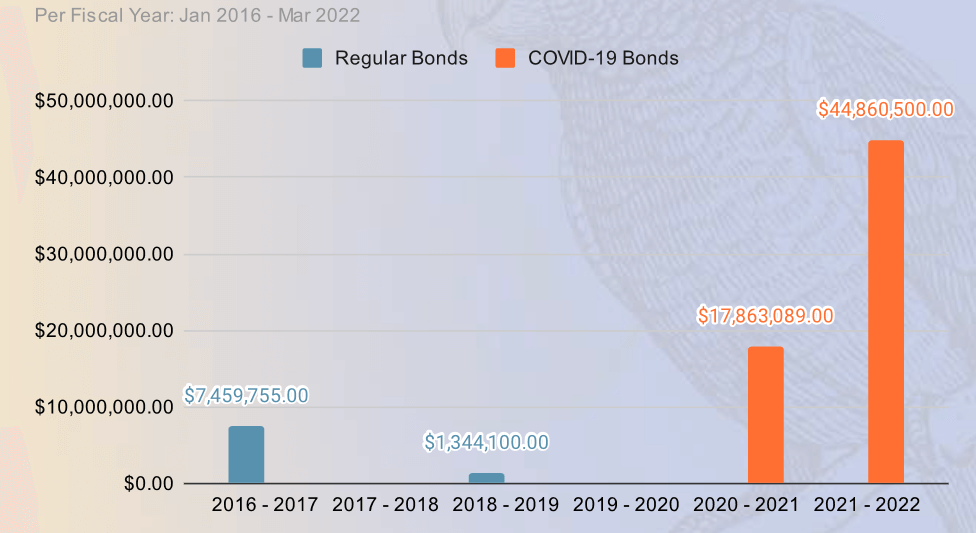 Source: CIP Annual Report 2021-2022
Government of Saint Lucia's Bonds are issued under the National Savings and Development Bonds Act Ch.15.25 of 2005 of the Revised Laws of Saint Lucia registers Government bonds which have been purchased as a qualifying investment for a five year holding period. Note the Covid bonds were discontinued.
The following two types of government bonds are available for subscription to citizenship applicants (effective from 2023).
Regular Bonds
US$ 500,000 – No administrative fee apply. Interest no paid (zero coupon) to CIP investors goes to state's benefit.
Applicant applying alone: US$500,000
Applicant applying with spouse: US$535,000
Applicant applying with spouse and up to two (2) other qualifying dependants: US$550,000
Each additional qualifying dependant: US$25,000
National Action Bonds (NAB)
US$ 300,000 – An additional, non-refundable administration fee of US$ 50,000 is applicable. One important benefit of this option is main Applicant can apply with any number of dependents meaning no additional charges for family members. Interest not paid (zero coupon) to CIP investors goes to state's benefit.
Bond Prospectus – Download PDF
Please reach us for more information.