The Dominica's Citizenship by Investment Programme (CBIP) was established in 1993 and allows individuals to gain Dominican citizenship in exchange for an economic contribution to the island.
The Economic Diversification Fund (EDF) is a Dominican Government program setup in 1993 supporting socio-economic initiatives with the aim of driving national development. This was established through the country's Citizenship by Investment Programme, as one component of a national capital mobilization portfolio. Applicants can acquire economic citizenship to Dominica by making a financial contribution to its EDF.
All money generated for the EDF fund goes towards improving projects in the public and private sector which are in need of financial support. These include building schools, renovating hospitals, and the creation of a national sports stadium, as well as a variety of other undertakings across numerous industries such as tourism, information technology and agriculture.
The EDF is used to support a wide range of public sector projects, climate resilience, including housing, the building of schools, renovations of hospitals and health centres, and the construction of a national sports stadium. The EDF is also used to provide support to the private sector in line with Dominica's economic vision, for example, by enhancing the capacity of the tourism, information technology and agricultural sectors. 'Housing Dominica' and 'Housing Revolution' are housing development projects which have taken place across the island and have been fully funded by the EDF. These projects have seen the rebuilding of hundreds of homes for displaced Dominicans. As of Climate residence plan 2030 plan, a total of XCD 1 billion has been leveraged from Dominica's Citizenship by Investment Programme to support urgent housing recovery needs.
To qualify for Dominican citizenship through the Citizenship by Investment program, applicants must make a one time non-refundable $100,000 contribution to the EDF.
Total Applications approved under EDF fund (2013-2018)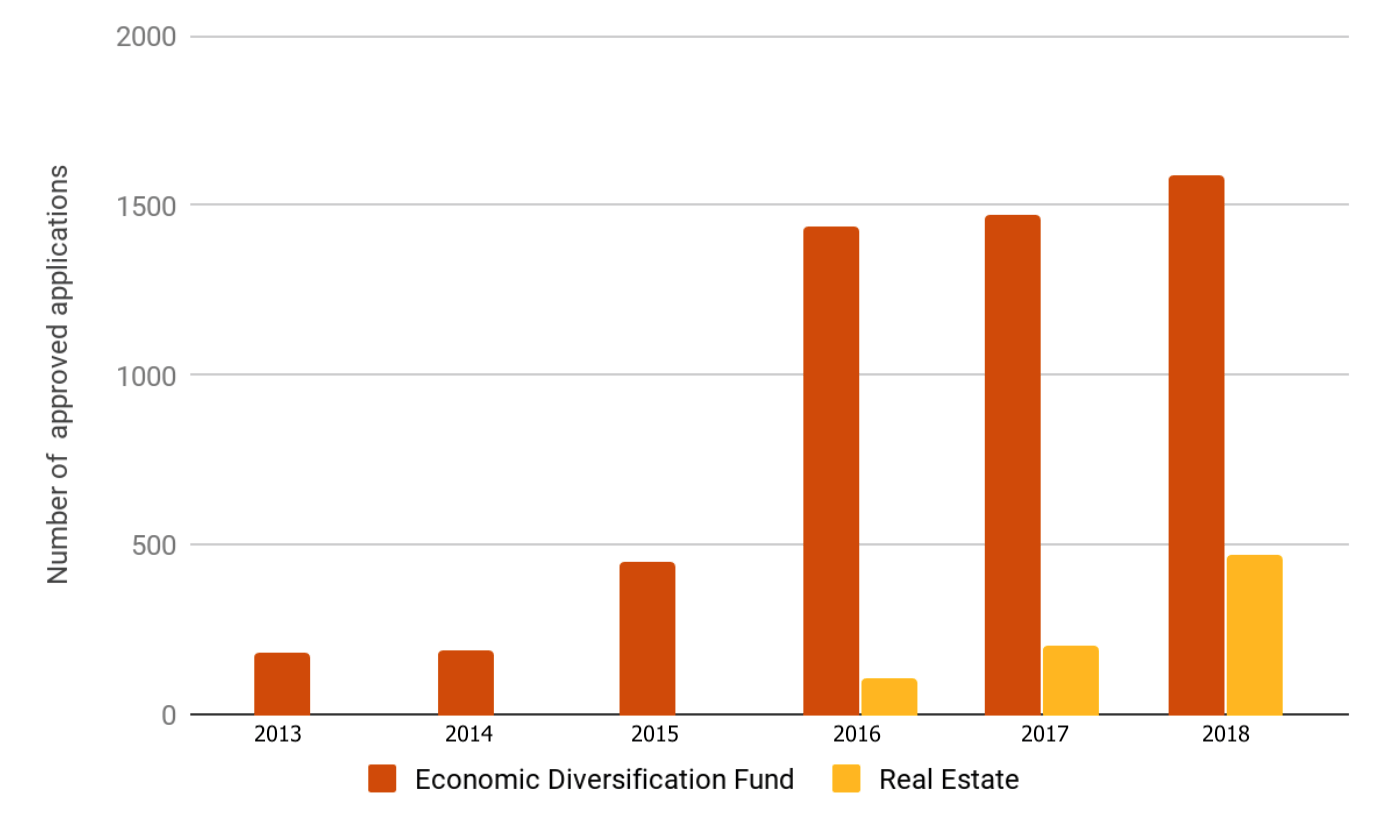 Source: Government of Dominica / Pwc report
The CBI is main revenue generator for this year's $1.2 billion budget for 2022/2023. According to IMF, revenues reached close to 30% of national GDP.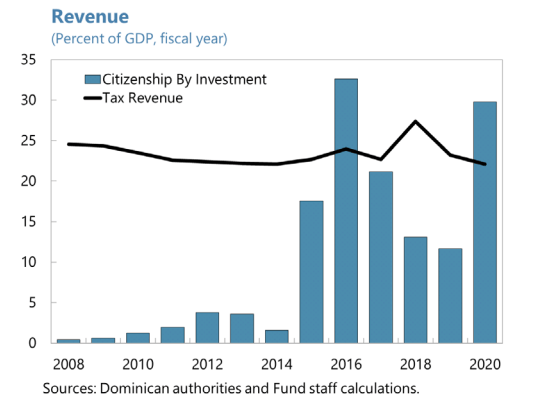 Source: IMF Article IV consultation Report