EU citizenship was established in 1991 by the Treaty on European Union in order to promote European values and identity. The Treaty confers on EU citizens a set of rights, such as the right of free movement, the right of diplomatic protection, the right to vote in and stand for elections to the European Parliament.8 Some of these rights can be exercised only when moving from one Member State to another. EU citizenship depends strictly on national citizenship, since EU citizens are only those who already hold the citizenship of an EU Member State. Member States reserve the right to regulate the acquisition and loss of national citizenship in ways that reflect their interests and identities.
Today we will look at loss of citizenship in EU member states through involuntary (without conscious control or will). Sometimes you wont even know you lost your citizenship. Involuntary loss is the worst way to lose your citizenship without even knowing it, especially you are spending your life abroad.. This loss may occur due to either automatic lapse of citizenship from the citizen for failure to take some action to retain citizenship, or active withdrawal of citizenship by the country.
Citizenship can be revoked on grounds of treason or disloyalty. (in 15 EU countries)
Deprival of citizenship happens, if they take service in a foreign army (in 12 EU countries)
Prolonged residence abroad is grounds for the involuntary loss of citizenship in 10 EU countries.
Dual citizenship restrictions (acquisition of another citizenship) may cause loss of citizenship in 9 EU member states
Prolonged residence abroad is also very important for many citizens, who tend to forget or not really aware they are losing citizenship. This applies to two types of citizens.
Naturalized citizens only – Cyprus, Ireland and Malta,
Citizens born abroad only – Belgium, Denmark, Spain and Sweden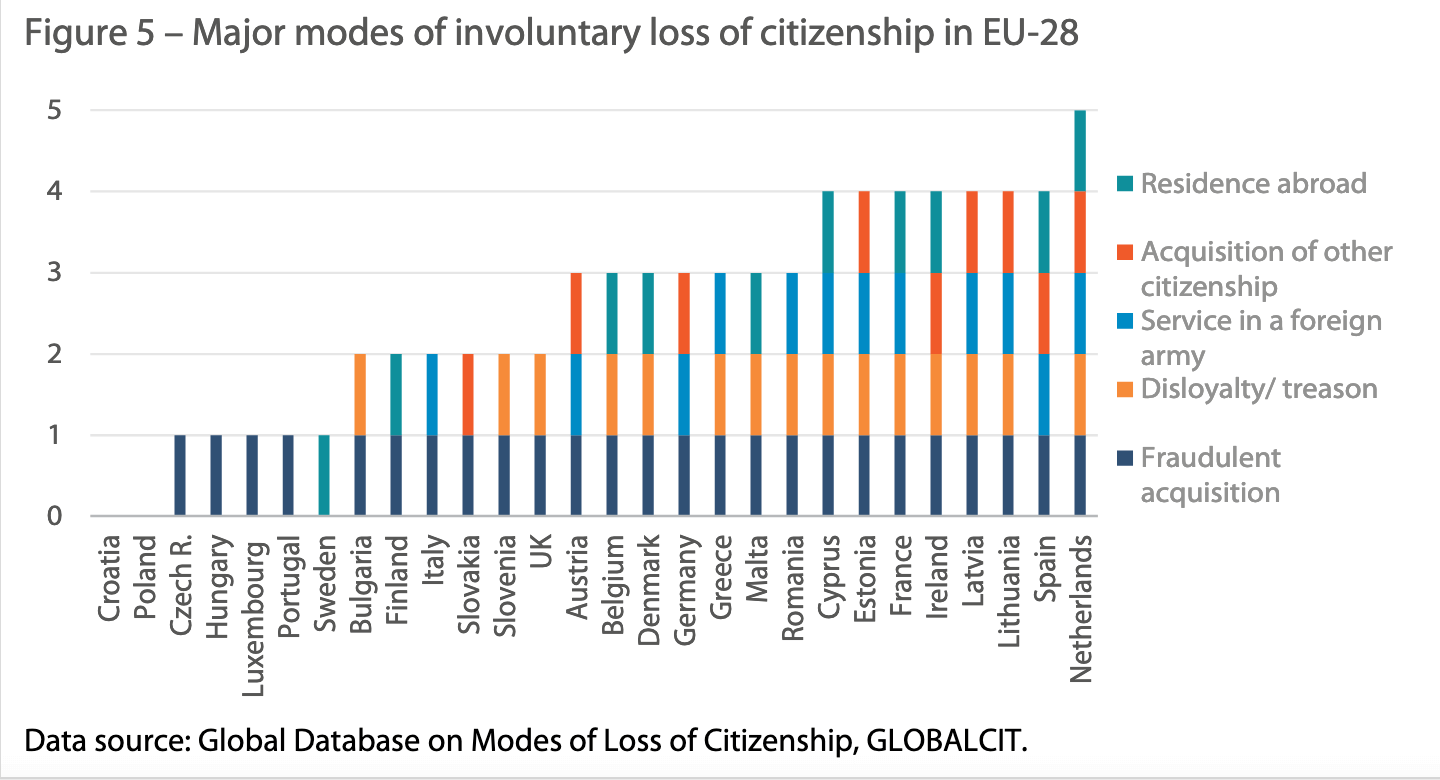 Source: European Commission
Austria
Residence abroad – NO
Acquisition of other citizenship (dual nationality) – YES
Service in a foreign army – YES
Disloyalty/ treason – NO
Fraudulent acquisition – YES
Belgium
Residence abroad – YES
Acquisition of other citizenship (dual nationality) – NO
Service in a foreign army – NO
Disloyalty/ treason – YES
Fraudulent acquisition – YES
Bulgaria
Residence abroad – NO
Acquisition of other citizenship (dual nationality) – NO
Service in a foreign army – NO
Disloyalty/ treason – YES
Fraudulent acquisition – YES
Croatia
Residence abroad – NO
Acquisition of other citizenship (dual nationality) – NO
Service in a foreign army – NO
Disloyalty/ treason – NO
Fraudulent acquisition – NO
Cyprus
Residence abroad – YES
Acquisition of other citizenship (dual nationality) – NO
Service in a foreign army – YES
Disloyalty/ treason – YES
Fraudulent acquisition – YES
Czechia
Residence abroad – NO
Acquisition of other citizenship (dual nationality) – NO
Service in a foreign army – NO
Disloyalty/ treason – NO
Fraudulent acquisition – YES
Denmark
Residence abroad – YES
Acquisition of other citizenship (dual nationality) –
Service in a foreign army –
Disloyalty/ treason – YES
Fraudulent acquisition – YES
Estonia
Residence abroad – NO
Acquisition of other citizenship (dual nationality) – YES
Service in a foreign army – YES
Disloyalty/ treason – YES
Fraudulent acquisition – YES
Finland
Residence abroad – YES
Acquisition of other citizenship (dual nationality) – NO
Service in a foreign army – NO
Disloyalty/ treason – NO
Fraudulent acquisition – YES
France
Residence abroad – YES
Acquisition of other citizenship (dual nationality) – NO
Service in a foreign army – YES
Disloyalty/ treason – YES
Fraudulent acquisition – YES
Germany
Residence abroad – NO
Acquisition of other citizenship (dual nationality) – YES
Service in a foreign army – YES
Disloyalty/ treason – NO
Fraudulent acquisition – YES
Greece
Residence abroad – NO
Acquisition of other citizenship (dual nationality) – NO
Service in a foreign army – YES
Disloyalty/ treason – YES
Fraudulent acquisition – YES
Hungary
Residence abroad – NO
Acquisition of other citizenship (dual nationality) – NO
Service in a foreign army – NO
Disloyalty/ treason – NO
Fraudulent acquisition – YES
Ireland
Residence abroad – YES
Acquisition of other citizenship (dual nationality) – YES
Service in a foreign army – NO
Disloyalty/ treason – YES
Fraudulent acquisition – YES
Italy
Residence abroad – NO
Acquisition of other citizenship (dual nationality) – NO
Service in a foreign army – YES
Disloyalty/ treason – NO
Fraudulent acquisition – YES
Latvia
Residence abroad – NO
Acquisition of other citizenship (dual nationality) – YES
Service in a foreign army – YES
Disloyalty/ treason – YES
Fraudulent acquisition – YES
Lithuania
Residence abroad – NO
Acquisition of other citizenship (dual nationality) – YES
Service in a foreign army – YES
Disloyalty/ treason – YES
Fraudulent acquisition – YES
Luxembourg
Residence abroad – NO
Acquisition of other citizenship (dual nationality) – NO
Service in a foreign army – NO
Disloyalty/ treason – NO
Fraudulent acquisition – YES
Malta
Residence abroad – NO
Acquisition of other citizenship (dual nationality) – NO
Service in a foreign army – YES
Disloyalty/ treason – YES
Fraudulent acquisition – YES
Netherlands
Residence abroad – YES
Acquisition of other citizenship (dual nationality) – YES
Service in a foreign army – YES
Disloyalty/ treason – YES
Fraudulent acquisition – YES
Poland
Residence abroad – NO
Acquisition of other citizenship (dual nationality) – NO
Service in a foreign army – NO
Disloyalty/ treason – NO
Fraudulent acquisition – NO
Portugal
Residence abroad – NO
Acquisition of other citizenship (dual nationality) – NO
Service in a foreign army – NO
Disloyalty/ treason – NO
Fraudulent acquisition – YES
Romania
Residence abroad – NO
Acquisition of other citizenship (dual nationality) – NO
Service in a foreign army – YES
Disloyalty/ treason – YES
Fraudulent acquisition – YES
Slovakia
Residence abroad – NO
Acquisition of other citizenship (dual nationality) – YES
Service in a foreign army – NO
Disloyalty/ treason – NO
Fraudulent acquisition – YES
Slovenia
Residence abroad – NO
Acquisition of other citizenship (dual nationality) – NO
Service in a foreign army – NO
Disloyalty/ treason – YES
Fraudulent acquisition – YES
Spain
Residence abroad – YES
Acquisition of other citizenship (dual nationality) – YES
Service in a foreign army – YES
Disloyalty/ treason – NO
Fraudulent acquisition – YES
Sweden
Residence abroad – YES
Acquisition of other citizenship (dual nationality) – NO
Service in a foreign army – NO
Disloyalty/ treason – NO
Fraudulent acquisition – NO