Antigua & Barbuda citizenship by investment programs excellent investment opportunity in real estate market (villas, hotels, resorts).  Applicants are required to make an investment in designated, officially CIP approved real estate with a value of at least US $200,000 plus the payment of government processing fees and due diligence fees.
Below are some of the best properties available for antigua citizenship.
Dieppe Bay Villas
USD 200,000 onwards (buyback shares available)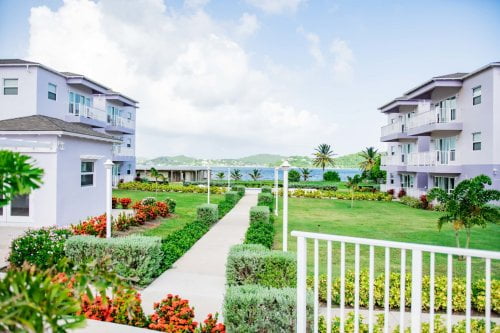 Dieppe Bay Villas is an approved real estate development project under the Antigua & Barbuda Citizenship by Investment Unit which comprises of 84 condominium-style units. Phase 1 which included the first 36 units was completed in the first quarter of 2018. Perfectly situated on the south coast of Antigua on a white sand beach, with exceptional views of Falmouth Harbour and lush green surroundings all within close proximity to many restaurants, bars and live entertainment for those looking to enjoy the Caribbean nightlife. Also within the area of Falmouth and English Harbour are a myriad of everyday amenities such as supermarkets, banks, a post office and top-class yachting facilities just to name a few. This breathtaking property is easily accessible from both land and sea, just one of the many unique features of The Villas at Dieppe Bay. Each Villa at Dieppe Bay will come fully furnished with top brand amenities with an excellent finish.  There are security and a personal parking spot for each tenant. The units are spacious, and well laid out for long-term living or for those just wanting the luxuries of a short vacation.
South Point Condo Hotel
USD 200,000 onwards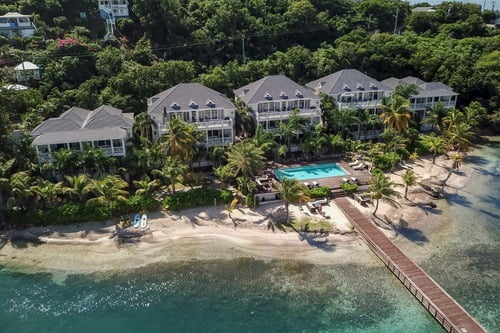 A boutique condo-hotel located within historic English Harbour, an old colonial town a part of the UNESCO. The property offers 20 one-bedroom (1100 sq ft) and 3 – two-bedroom (2300 sq ft) units within five residential buildings. The units feature impeccable furnishings, Italian kitchens and baths, European appliances and lighting, and the finest amenities throughout. Facilities include a swimming pool, beach, boat dock, jetty, three boat lifts, restaurant, lounge, fitness centre, two staff apartments, back-up generator and sewage plant. The highly regarded South Point is located south of the island overlooking Falmouth Harbour, the Caribbean's yachting centre. The property is approved for Antigua and Barbuda Citizenship Investment Program (CIP). Remaining on the market: 9 one-bedroom units. Whereas most Antigua hotels are either family-focused resorts or intimate couples-only hotels, our clientele is a mix of leisure and business travellers. And though we have our own amazing restaurant, we do not restrict our guests to an all-inclusive plan. We encourage them to explore the English Harbour area, whether it's fine dining at Catherine's Cafe or a grab-and-go bite from one of the local food stalls.
Staying at South Point also means that you are not restricted to just one of Antigua's beautiful beaches. Our own small, private beach is a fine option for those who prefer to stay close to home, but for those seeking one of the quintessential Antigua beaches, Pigeon Beach – once named one of the sexiest beaches in the world – is a 5-minute walk from the hotel. It is also easily accessibly by paddleboard or kayak. Galleon Beach, though 5-minutes away by car, is another must-visit. This picturesque beach is known for its proximity to the Pillars of Hercules, turtle sightings, snorkelling, and darker blue, but crystal clear, waters. Not many Antigua hotels can match the unique attributes of South Point.
Moon Gate Boutique Hotel
USD 250,000 onwards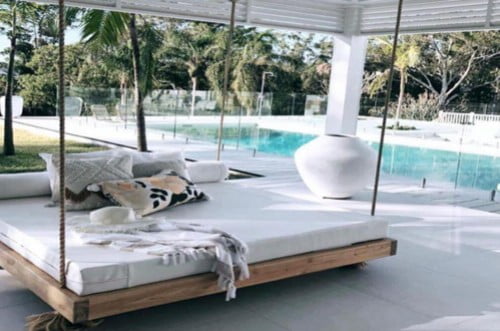 Moon Gate is a couple's only Boutique Hotel consisting of forty fully- furnished suites open to the captivating view of one of the most beautiful beaches in Antigua, Half Moon Bay. Moon Gate offers a wide range of amenities, supported by a centralized clubhouse, cocktail lounge and A la Carte Restaurant overlooking the property's infinity pool. Property owners and guests have access to the inhouse sauna and gym, beach bar and a wide range of services commensurate with a 4-star Caribbean property.
Investors seeking citizenship can purchase a luxurious suite from as little as US$250,000 for a standard suite, US$400,000 for a premium suite, to US$600,000 for a penthouse duplex suite with a rental pool option. Moon Gate suites feature climate-controlled rooms, double vanities, outdoor soaking tubs, outdoor dining, private plunge pools, King-sized beds, wet bar and more!
Hodges Bay Resort
USD 200,000 onwards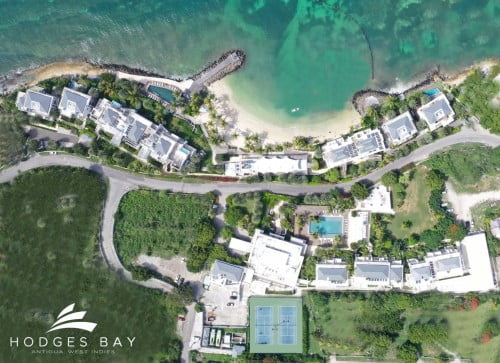 The new flagship property on the northern tip of Antigua, West Indies. 13 years and $100 million in the making, multiple developers, designers, additions and demolitions. The opening of Hodges Bay in November symbolized hope, hard work, dreams, and cemented an iconic relationship between the resort and the country of Antigua. Hodges Bay was built for every kind of escape. From the moment you arrive from the airport and enter the Great House for a champagne check in – the journey to re-frame your idea of modern luxury begins. Feel the casual, modern, and polished clean bohemian aesthetic. This is what freedom feels like – Now, relax. We'll grab your bags…… The Caribbean's bespoke travel destination, we are boutique luxury that doesn't require a dress code.
Hodges Bay gives you personalized and 5-star service that isn't stuffy or pretentious. Rooms designed to make you feel like home, staff that know you by name, and a property built as a retreat. Guests travel to Antigua for anonymity and the mystic. At Hodges Bay we have the quiet you crave, and the fun you deserve. Follow us into mindful freedom, reconnect with those you love the most, and let our family take care of yours.
Please contact us for more information about these properties.