Portugal has published a report on acquisition of citizenship by foreigners. According to the SEF report, in 2021, the SEF registered a total of 54,288 requests for an opinion on the acquisition of Portugal nationality , with a decrease compared to the same period (-21.3%). In this context, a total of 47,278 decisions were issued. 46,855 positive and 423 negative.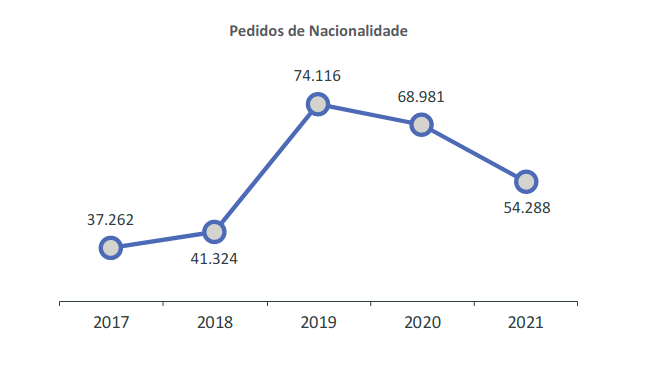 Out of these 73.5% of the applications were naturalization requests and 12.2% were for citizenship by marriage, 3.1% for minors.
Brazilians top the list for citizenship acquisition through marriage (3064) followed by Venezuelans. A large number of citizens who, not being resident in the national territory, apply for nationality to the Embassies and Consulates of Portugal in the area of residence. It should be noted that, within the framework of SEF's powers in this field, 7,252 opinions (7,159 positive and 93 negative) were issued.
Top Countries
Israelis top the table in acquiring citizenship in Portugal followed by Brazilians. The breakdown by country of birth
| | |
| --- | --- |
| Country of Birth | Granted |
| Israel | 21,263 |
| Brazil | 13,328 |
| Cape Verde | 2980 |
| Angola | 1830 |
| Nepal | 1373 |
| Venezuela | 1345 |
| Ukraine | 1243 |
| India | 1217 |
| Guinea-Bissau | 1186 |
| Argentina | 907 |
Source: SEF Report 2021
Portuguese Citizenship
Portuguese citizenship can mainly be acquired by those who are descended from Portuguese parents or grandparents, by marriage or civil union, or by birth in a Portuguese territory. The law offers Portuguese citizenship to Sephardic Jews. Descendants of Sephardic Jews are eligible to apply, provided they receive the endorsement of a Sephardic community.
Golden visa holders who receive ARI residence permits receive no preferential treatment but can apply for Portuguese citizenship, by naturalization, provided all other requirements set out by the Nationality Act are fulfilled (Act number 37/81 of 3 October, with the current wording). Portuguese, EU and EEE nationals (including nationals of Swiss and Andorra) are not eligible for the ARI / Golden Visa scheme.

Among the naturalization requirements, Portugal requires atleast 5 years of living in the territory before filing an application for nationality. Applicants must have clean criminal record and also must pass language test.