Both the passports are the same, just known by different names,
A biometric e-passport (also known as an e-passport or a digital passport) is a passport booklet that has an embedded electronic microprocessor chip which contains biometric information that can be used to authenticate the identity of the passport holder. It is a universal identification document.
More than one billion people from 150+ countries use e-passports for crossing borders replacing ordinary paper passports strengthening the security during their travels.  Strengthening document security and our ability to verify travelers' identity is essential for border security. A number of countries (eg. US) accept only biometric passports for entry at their borders under visa waiver agreements.
You can identify these passports by seeing a e-passport chip (a gold camera) in the front cover. The chip holds the same information that is printed on the passport's data page: the holder's name, date of birth, and other biometric information.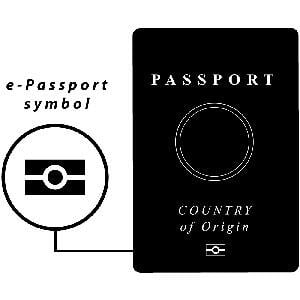 The benefits of e-passport are
Securely identify the traveler,
Provide protection against identity theft,
Protect privacy (prevent the unauthorized reading or "skimming" of data stored on the e-Passport chip)
Make it difficult to alter a document for use in gaining admission to country
Prevent duplication
Fast passenger entry preventing delays at border crossing.
International cooperation with passport security.
Biometrics are unique, measurable, physical characteristics which are used to recognise the identity or verify the claimed identity of an individual. Examples include facial image, fingerprints and iris patterns.
This combination of the biometrics aims to create an unrivalled level of security and protection against counterfeit and fraudulent identification documents. ICAO. (International Civil Aviation Organisation) nominated facial recognition as the primary biometric with fingerprint as backup but not mandatory.
History of Biometrics
The history of first use of biometrics can be traced back to China and India.
In the second century B.C., the Chinese emperor Ts'In She was already authenticating specific seals with a fingerprint. Fingerprints were first used in a commercial setting in 1858 by  William James Herschel, a British administrator in India. Having been put in charge of building roads in Bengal, he had his subcontractors sign contracts with their fingers. That was an early form of biometric authentication and a sure way of finding them quickly if they defaulted. In the U.K., the Metropolitan Police started using biometrics for identification in 1901.
Many countries already issuing biometric passports to their citizens. Malaysia was the first country to issue biometric passports in 1998