Saint Lucia is popular due to its tropical weather, with stunning scenery and for its large number of beaches, resorts and twin pitons which are the most photographed in the world and iconic symbol of St Lucia. The Warm sunshine, cozy beaches, stunning natural beauty from tropical rain forests – are compelling reasons to visit this unique Caribbean island of Saint Lucia.
History
Saint Lucia was first known as "Louanalao" by the Arawak Indians in 200 AD, meaning "Island of the Iguanas," and then "Hewanorra," in 800 AD when the Carib Indians arrived and assimilated their culture into Saint Lucia. Residents of Carib descent can still be found in Saint Lucia today.
The Caribs lived on Saint Lucia until the 1600s, when settlers attempted to take control of the island to boost European trade. Even during this period of colonialism, the Caribs continued to fight and stopped multiple attempts by the English and French to settle on the island.
Juan de Cosa didn't actually colonize Saint Lucia. That honor falls to a pirate named François Le Clerc, nicknamed Jambe de Bois because of his wooden leg. Peg-Leg Le Clerc used Pigeon Island to attack Spanish ships in the 1550s, and the island is now a National Landmark with historic sites and museums to enthrall those who visit.
In the 1600s, the French, English, and Dutch all attempted to take Saint Lucia as one of their colonies. The Dutch attempted to build Vieux Fort in the 1600s, but were pushed out by the Caribs. In 1639, the British sent 400 settlers to the island, who were wiped out by the Caribs in less than two years.
In 1651, a member of the French West India Company purchased the land from the Caribs to make it a French colony, and the English immediately sent 1,000 men to take back the island. This fighting continued until 1814, when the French ceded Saint Lucia to the English.
A famous Legend states French sailors were shipwrecked at St. Lucia on 13 December, the feast day of St. Lucy, naming the island in honor of Sainte Lucie
Saint Lucia was only among two countries in the world named after a women (the other is Ireland). The Saint Lucy of Syracuse (AD 283 – 304) who was was honored in the Middle Ages and remained a well-known saint in early modern England.  Today there is a shrine of her in San Geremia, Venice
Saint Lucia was also known as the "Helen of the West Indies" after the Greek mythological character, Helen of Troy, because it was former colony of french and british. It was switched 14 times between these two sides since 1660.
Saint Lucia was visited by over 1.2 million visitors every year mostly through cruise ships from US, Canada, UK and France. Tourists spend their time in Castries, although Soufriere, Marigot Bay, Rodney Bay and Gros Islet are popular locations to visit.
Most popular tourist attractions include a drive-in volcano, Sulphur Springs (in Soufrière), zip lining in beautiful Sault Falls, Dennery, the Botanical Gardens, Pitons, the rain forests, and Frigate Island Nature Reserve.
Fast forward to modern times. Saint Lucia was one of the last European colonies to finally declare independence. In fact, she only became independent within the British Commonwealth in 1979 and finally has a thriving, peaceful economy and sovereign government.
Strategic Geographic Location
Located in the Eastern Caribbean, Saint Lucia not only enjoys relative proximity to both the regional and near shore markets of North America, South America, and CARICOM member states, but is also only a short 8-hour flight to Europe.
Stable Economic and Political Climate
Saint Lucia has been consistent as one of the freest economies in the Caribbean, ranking second place with an index of 70% in the 2016 Economic Freedom Index. Politically speaking, the island is considered "free" according to the 2015 Freedom House report, which also highlighted constitutional guarantees regarding freedom of speech, assembly and association.
Infrastructure and Advanced Technology
Saint Lucia has an efficient telecommunications system, reliable electricity and a stable water supply that is also affordable. Moreover, with modern air and sea port facilities, Saint Lucia's interconnected structural elements provide a supportive framework for many investment opportunities.
Bilateral Relations
The United States supports the Saint Lucian government's efforts to expand its economic base and improve the lives of its citizens.
Saint Lucia has concluded various bilateral treaties with the United States, including a maritime law enforcement agreement (subsequently amended to include overflight and order-to-land provisions), a mutual legal assistance treaty, and an extradition treaty.
Saint Lucia and the United States belong to a number of the same international organizations, including the United Nations, Organization of American States, International Monetary Fund, World Bank, and World Trade Organization.
Saint Lucia is a beneficiary of the Caribbean Basin Initiative, which aims to facilitate the economic development and export diversification of the Caribbean Basin economies by providing beneficiary countries with duty-free access to the U.S. market for most goods.
The Caribbean Basin Security Initiative (CBSI), a partnership between the United States and the countries of the Caribbean dedicated to increasing citizen security throughout the region. The Peace Corps, whose Eastern Caribbean regional headquarters is located in Saint Lucia, has volunteers in Saint Lucia working in education. In addition, Saint Lucia benefits from humanitarian civic action construction projects.
Saint Lucia maintains embassy in the United States at in Washington and New York and Consulate in Miami.
Tourism and Travel
The Caribbean island of St Lucia relies heavily on tourism. At its peak in 2019, Saint Lucia received around 424,000 arrivals from international overnight visitors in 2019. The Cruise arrivals peaked 786,000 for 2019 according to Tourism board.
More visitors to Saint Lucia are from the United States than any other country with major connections to other parts of the world. The U.S. market grew by 23 percent, owing largely to the hosting of Carnival activities and from American Airlines operating out of Miami with additional airlift.
Tourists spend their time in Castries, although Soufriere, Marigot Bay, Rodney Bay and Gros Islet are popular locations to visit.
Most popular tourist attractions include a drive-in volcano, Sulphur Springs (in Soufrière), zip lining in beautiful Sault Falls, Dennery, the Botanical Gardens, Pitons, the rain forests, and Frigate Island Nature Reserve
The biggest festival of the year is the Saint Lucia Jazz Festival which draws huge crowds. Held in early May at multiple venues throughout the island, it draws visitors and musicians from US and around the world.
US citizens topped arrivals in 2019, followed by UK nationals in second place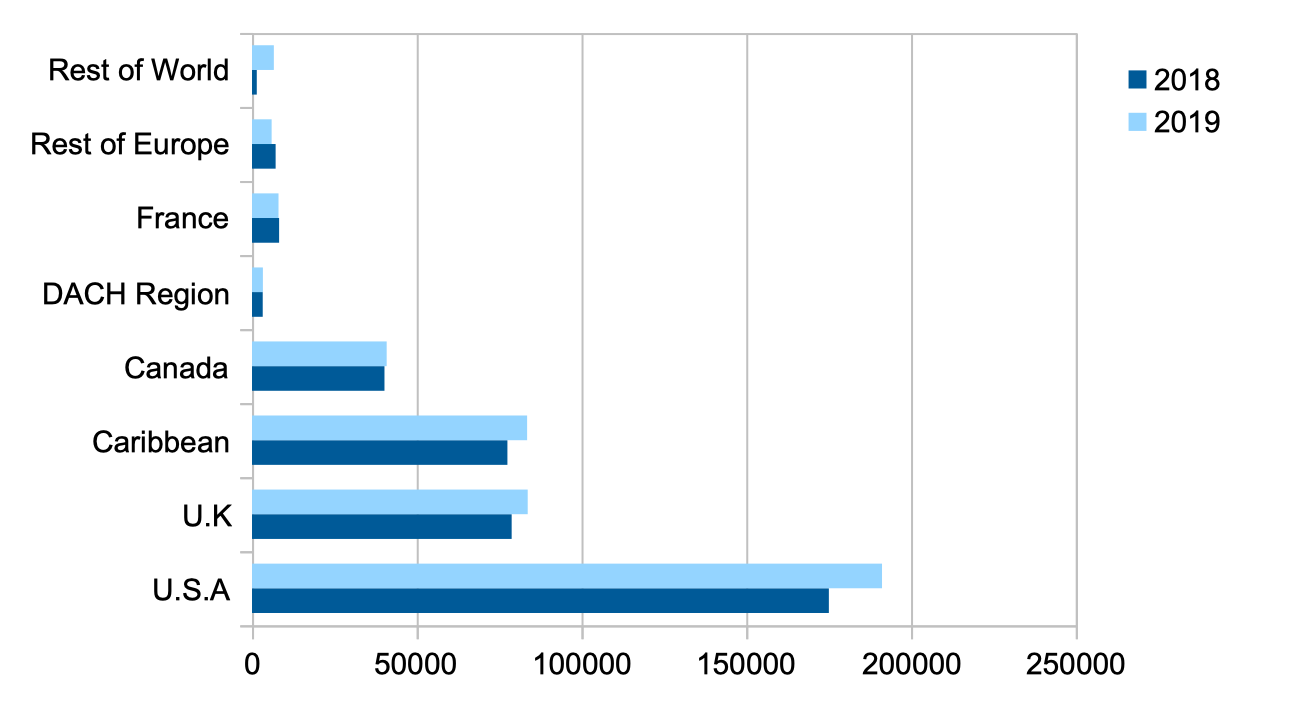 Source: Tourism Office
St. Lucia, a Caribbean destination with nonstop flights from eight major U.S. cities.
Saint Lucia  secured the coveted title of the 'Caribbean's Leading Honeymoon Destination' for the seventh year in 2016 surpassing nominees Bahamas, Aruba, Turks and Caicos and the British Virgin Islands by World Travel Awards
The island nation is currently open to American travellers, with health and safety protocols in place. Effective February 10, all arrivals to Saint Lucia (5 years and older) must have a negative result from a PCR test taken no more than 5 days before arrival.
From North America, direct service to Saint Lucia is available on
American Airlines from Miami; Charlotte and Philadelphia;
JetBlue from New York and Boston;
Delta from Atlanta;
United Airlines from New Jersey and Chicago.
Here are other major connections..
US: American Airlines, Delta Airlines, JetBlue and United Airlines
Canada: Air Canada, Sunwing Airlines and WestJet
UK: British Airways and TUI
Germany: Condor
France: Air France, Corsair and Air Caraibes
Caribbean: Air Caraibes, Air Antilles, Caribbean Airlines, interCaribbean Airways and LIAT
The diverse Saint Lucia history means it is a melting pot of various cultures.
Immigration for Americans
Americans can visit St Lucia for tourism purpose for upto 6 weeks and to stay further, a permission is required at Immigration office.
The Multiple Entry Visa allows American expats to live up to a year in St Lucia. Expats seeking work in St Lucia will, however, need to apply for a work permit
Citizenship: After 7 years of permanent residency on the island, you can apply for St Lucia citizenship through naturalization.
Another quicker route is Citizenship by Investment, a lot quicker in 3 months, if you can donate $100,000 to Government fund or buy Covid bonds for USD 250,000 (fully refunded without interest after 5 years) in exchange for citizenship. If you can afford $300,000 to buy real estate in approved hotels and resorts, citizenship can also be lot quicker.
Tax Treaties
St Lucia has tax treaties with the US including the FATCA. There are no wealth, inheritance or capital gains taxes in the island. Please refer to this PWC report
EC Dollar
St Lucia uses  Eastern caribbean dollar (XCD). The East Caribbean Dollar is designated by EC$ and has been pegged to the US Dollar since 1976
US$1 = EC$2.70
Brochure
You can also read our Brochure on St Lucia in pdf format