The St Lucia Government has approved two real estate developments for acquiring citizenship through investments. Please note that only investing in government approved CIP projects will make you eligible for citizenship by investment.
Under the CIP regulations, you must buy a real estate for a minimum of USD 300,000 or more. You must hold the property for 5 years and cannot sell it during the locked period.
Saint Lucia has huge appeal for visitors and tourists and is proud of the range of real estate it offers. The Citizenship Investment Programme is an option for investors in approved real estate projects under the following categories:
high-end branded hotels and resorts
high-end boutique properties
any other project that the Minister, on recommendation of the Saint Lucia Citizenship by Investment Board and after consultation with Cabinet, considers necessary
The real estate process requires a binding process and sale agreement; appointment of escrow agent; an escrow bank account to which the minimum investment amount is to be deposited and an escrow agreement.
Real Estate Investment and Fees
Minimum investment: US$300,000
Non-refundable government administration fee:
Applicant applying alone- US$ 30,000
Applicant applying with spouse- US$ 45,000
Each qualifying dependent (18 years of age and over) – US$ 10, 000
Each qualifying dependent (under 18 years of age) – US$ 5,000
Applicant applying with spouse & more than four dependents – US$ 10,000
Due Diligence:
Applicant alone- US$7,500
  Each qualifying dependent over 16 years of age – US$5,000
Processing fees
Applicant alone- US$ 2, 000
Each qualifying dependent- US$1,000
Approved Investment Projects
There are two real estate projects approved by Citizenship Unit of Saint lucia
1. Canelles Resort
The Saint Lucia Canelles Resort is a luxury resort developed by the Galaxy Group, managed by AMResorts, a subsidiary of Apple Leisure Group. The Saint Lucia Canelles Resort will quickly transform into a key destination point for both leisure and investment opportunities.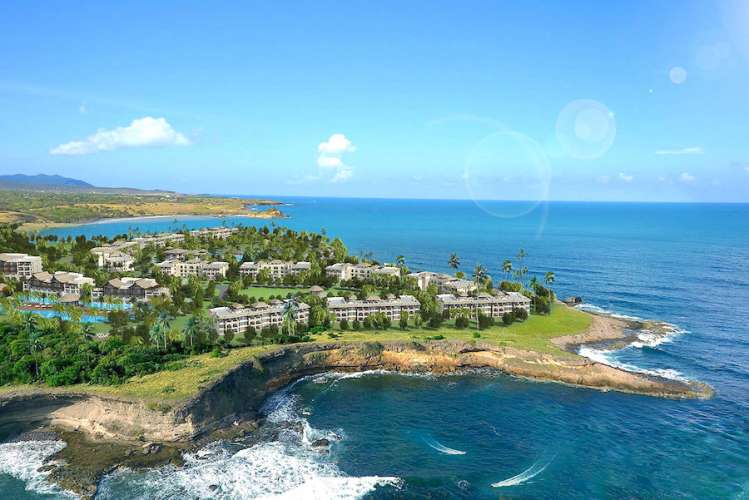 This Resort has two brands, Dreams and Zoetry, plus Canelles Oceanfront Apartments, which offer a high level of luxury for couples and couples with children in ideal beachfront settings. With spacious rooms and suites, graciously appointed and luxuriously equipped, it will provide a picture-perfect vacation experience with welcoming service and romantic inclusions.
Furthermore, Galaxy offers a unique resort experience where wellness is defined more broadly than rest and healing alone. Our resorts also offer exclusive opportunities to participate in cultural, artistic and educational experiences as well as local community stewardship activities.
The applicant is required to execute a binding purchase and sales agreement for an investment of a minimum US $ 300,000 in the already Government Approved Canelles Resort Saint Lucia Real Estate Project.
2. Alpina Hotel
The Alpina St. Lucia Hotel is located in the largely underdeveloped southern part of the island approx. 2km from the Hewanorra International Airport which the Government of Saint Lucia has announced will be undergoing a major re-development.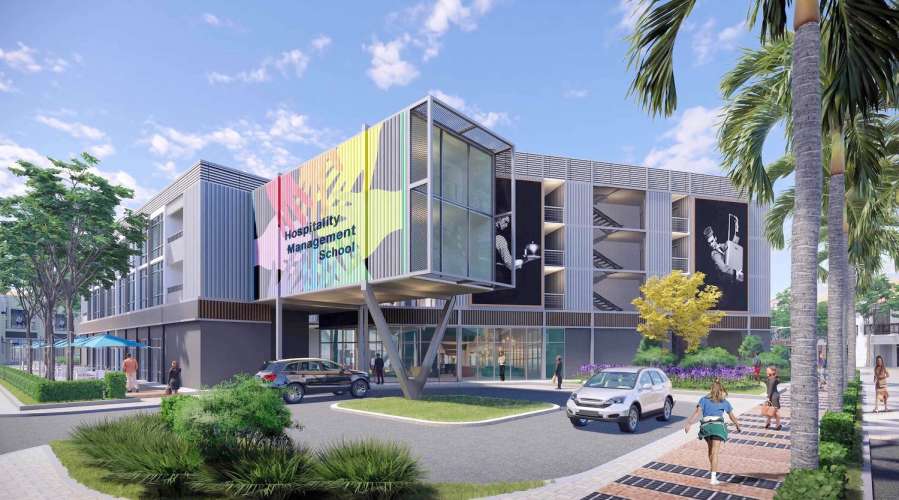 The Alpina St. Lucia Hotel is a Government Approved Real Estate project under the Citizenship by Investment programme of Saint  Lucia.   The Alpina St. Lucia Hotel forms part of the "Site A" of the PEARL OF THE CARIBBEAN Integrated Resort Development which include an international-standard Thoroughbred horse racing track already in operation and is managed by the  Royal Saint Lucia Turf Club.
The Alpina St. Lucia Hotel will be managed by the Alpina Management AG, the management company of The Alpina Mountain Resort & Spa in Tschiertschen, Switzerland. The Alpina St. Lucia Hotel will also comprise of a hospitality school in partnership with an internationally renowned hospitality school. The school will provide hospitality training to support the tourism and hospitality industry of Saint Lucia.
The 231-Room hotel together with 17 units of serviced apartments is part of the town center development of the PEARL OF THE CARIBBEAN to cater to business travelers and tourists to Saint Lucia.
Unapproved Areas
Foreigners are free to invest in real estate market of St Lucia.  If you are not looking at citizenship, you can invest in any property projects. The Alien Landholding (Licensing) Act makes provision for foreigners to purchase, acquire, lease and hold land in Saint Lucia. The certificate may be issued for the duration of one (1) year or ten (10) years.