Panama is one of the easiest countries in the world to obtain a golden visa residency for investments.  You will get immediate, that is a direct permanent residence from day one by making an economic investment. There are several ways to do that.
Why Panama?
Panama is a very important trade hub and sea route links both the Pacific and Atlantic side through canal.
Panama has stable political environment, pro-business government, fast growing real estate market, and economy.
Panama canal brings one third of revenues with inflows of marine traffic of shipping goods.
Foreign earned income is tax free.
Low cost residency –  Panama offers the cheapest residency program with path to citizenship and passport.
Panama has adopted two official currencies US dollar and Balboa. Official currency is the US Dollar, but local coins called Balboas are also used, and have the same denomination as USD.
Daily flights to major cities in the Americas and Europe, Toronto to Buenos Aires, and Madrid to Istanbul.
For more than a decade Panama has experienced unprecedented economic growth of almost 8.5% annually making Panama a second fastest growing economy in latin america.
Golden Visa
According to Migration office, Foreigners must make the following economic investments in Panama, sum equivalent in panamanian balboas
Real Estate – USD 300,000 invested in properties. Additional USD 2000 per dependant. Permanent residence issued for 2 years. Additional USD 1000 in migration office fees.
Bank deposit –  USD 300,000 fixed deposit in a banking institution. Permanent residence permit issued for 2 years. Additional USD 2000 fee for dependants
Mixed Investment – USD 300,000 combination of fixed deposit and real estate. Permanent residence permit issued for 2 years. Additional USD 2000 fee for dependants
Business –  USD 160,000 share capital invested for 2 years. Permanent residence permit issued for 2 years. Additional USD 2000 fee for dependants
Pensioners – Prove atleast income USD 1,000 per month for sufficient means.
Passive Income (Rentista) – Income atleast USD 850 monthly from deposits accrued from National bank of panama or savings bank guaranteed for 5 years free of any encumbrance.
Forest investor – Invest atleast USD 80,000 in afforestation or agriculture plantation for a period of 5 years. PR issued for 2 years. Additional dependants USD 2000 per person.
Economic area investor – Investors in pacific economic area or free trade zones
Call centers – Investments in call centers will also attract PR status for investors.
Friendly Nations visa – Nationals of 50 countries including Italy that have close ties with panama can get PR, provided establishing residence (to carry out economic or professional activity). You must also deposit $5,000 to $10,000 in a bank account in Panama
REAL ESTATE – EXCEPTIONS TO THE RULE:
When the properties are in the name of a private interest foundation, the foreigner may request this permit as long as he or she demonstrates that the founder and he or his dependents are the beneficiaries. The certificate of Public Registry must show the designation of founder and beneficiary.
In the event that the applicant proves that he has paid the liquid sum of three hundred thousand balboas (B / .300,000.00) in a real estate and this is of a value higher than required, you can finance the remainder through loans mortgage from a local bank.
Applications for permanent resident permits may be considered in quality of own economic solvency, of those foreigners who have invested in real estate in the national territory, a minimum sum of two hundred thousand balboas (200,000.00) and less than three hundred thousand balboas (300,000.00), and that due to force majeure or unforeseeable circumstances they have not been able to sustain the ownership of the asset before the entry into force of this regulation.
 This last exception must be verified with the payment through bank transfer. bank to the real estate agent for payment of the property and copy authenticated of the contract of promise of sale.
Statistics
According to the immigration statistics released by migration office, a number of investors have utilized the permanent residency scheme of Panama.
A total of 4,937 applications approved for permanent residence permit for 2020
| | | |
| --- | --- | --- |
| Residence permits for 2020 | Admitted | Refused |
| Friendly nations | 1905 | 38 |
| Fixed term deposit | 81 | 2 |
| Real Estate investor | 72 | 7 |
| Retired | 294 | 4 |
The Top countries applying for residence permits in Panama are Venezuela,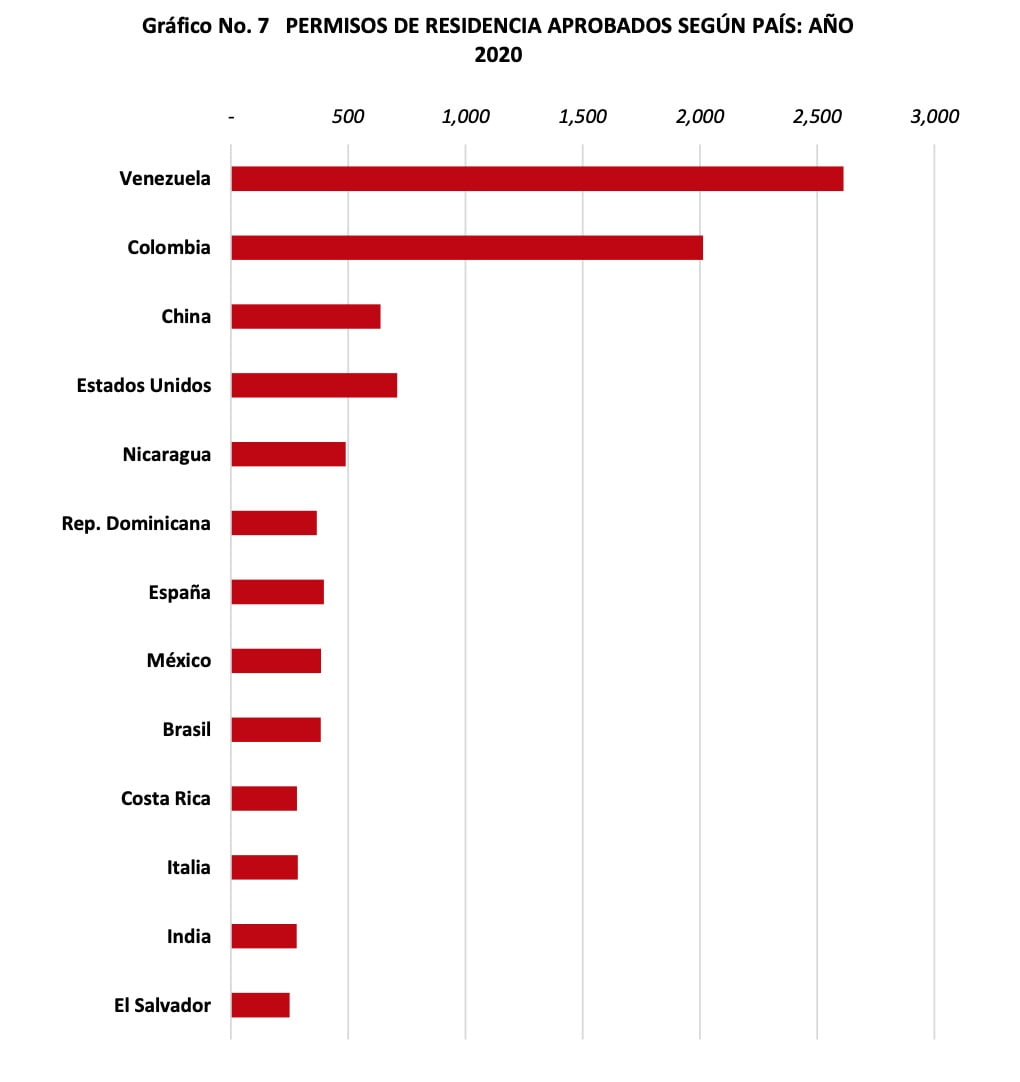 Source: Servicio Nacional de Migración
Panamanian Citizenship
It is possible to naturalize for citizenship after 3-5 years as permanent resident status. On top of it. the processing time also takes more than 2 years. Citizenship time is cut for nationals from spanish speaking nations.
Dual citizenship
Dual nationality is not allowed in Panama. You are required to renounce your previous citizenship when taking oath.
E-2 Treaty
Panama has signed E-2 investor treaty with United States since May 30, 1991. This makes panamanian citizens eligible for E-2 visas.
Passport
Panamanian citizens had visa-free or visa on arrival access to 140 countries and territories include UK, Europe, South Africa, Russia, Mexico etc. A visa is still required to visit Canada and United States.