The E-2 investor visa route with Grenada citizenship remains of the most popular route to enter United States. It is the cheapest route for many chinese families to live and work in United states instead of investing $900,000 in EB-5 and wait for number of years.
Grenada signed E-2 treaty with United States  since March 3, 1989.  Grenada has no E-1 trader treaty with United States.
How many E-2 visas were issued to Grenada nationals?
The State department publishes visa statistics annually on the E visas issued to Grenada.  These statistics indicate nationals of Grenada were approved of E-2 visas. So far about 67 visas were issued in a ten year history. In 2020 as of april report, 14 E-2 visas were issued to Grenadian citizens. The pace is picking up in 2020.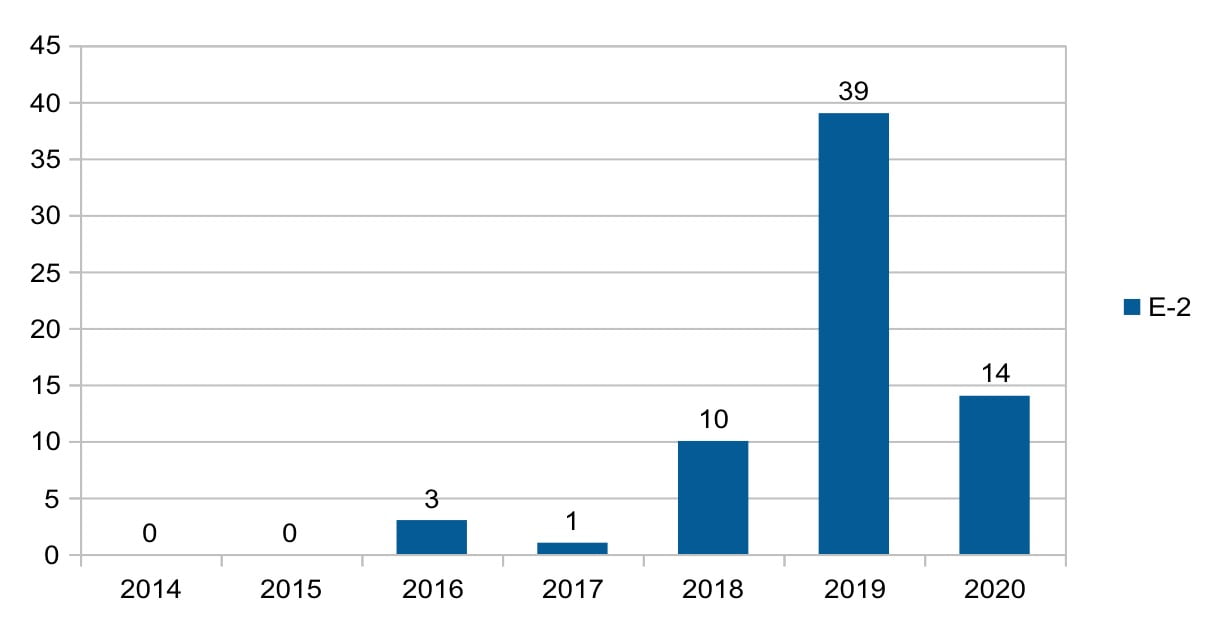 Source: State Department – Chart shows e-2 visas issued for grenada nationals from 2014 to Apr 2020.
| | |
| --- | --- |
| Grenada | E-2 |
| 2010 | 0 |
| 2011 | 0 |
| 2012 | 0 |
| 2013 | 1 |
| 2014 | 0 |
| 2015 | 0 |
| 2016 | 3 |
| 2017 | 1 |
| 2018 | 10 |
| 2019 | 39 |
| 2020 | 14 |
Note: This chart and table below does not explicitly show how many nationals obtained grenadian citizenship through investment and have been approved of E-2 visas. 
There also exists a significant difference between E-2 and EB-5 visas. E-2 visas are great if you dont want green card, citizenship and dont want to immigrate and live in United States.
We heard from many UHNW individuals are careful not be liable to US taxation based on their worldwide income becoming permanent residents.  All international tax planning must be done well in advance before entering US.
Only nationals of treaty countries can apply for E-2 visas directly.  All other non-qualifying nationals (eg. India, China, Russia) chose Grenada citizenship route as backdoor, to qualify for E-2 visas. It should cost $200,000 for Grenada passport and another $100,000 investment in US creating atleast 5 jobs.
All in all total costs around $300,000 for the Grenada +E-2 visa package. Legal costs are pretty low. Remember the key is job creation cannot be a passive investment.
Another important benefit, is Grenada passport holders can apply for E-2 visa at any nearest US consulate where they live. They dont need to travel explicitly to Grenada to apply for US visa.