China, US and France are the top 3 countries have the highest diplomatic posts/missions abroad, thus establishing big diplomatic footprint around the world.
Before we head below, lets understand a bit about embassy and consulates. The Embassies, Consulates and High commissions are established to extend diplomacy and assist their citizens during emergency.
So what are the differences?
Embassy is a diplomatic mission generally located in the capital city of another country which offers a full range of services, including consular services. Embassy and diplomatic employees have full and absolute inviolability and immunities towards host state authorities including its judiciary
High commission is an embassy of a Commonwealth country located in another Commonwealth country.
Permanent mission is a diplomatic mission to a major international organization (eg UN). All missions to the United Nations are known simply as permanent missions, while EU member states' missions to the European Union are known as permanent representations, and the head of such a mission is typically both a permanent representative and an ambassador.
Consulate General is a diplomatic mission located usually other than the capital city, which provides a full range of consular services. consulate and consular employees only have limited inviolability and immunities
Consulate is a diplomatic mission that is similar to a consulate general, but may not provide a full range of services ( only limited service).
These are  the list of top countries that have the most diplomatic missions abroad for 2019.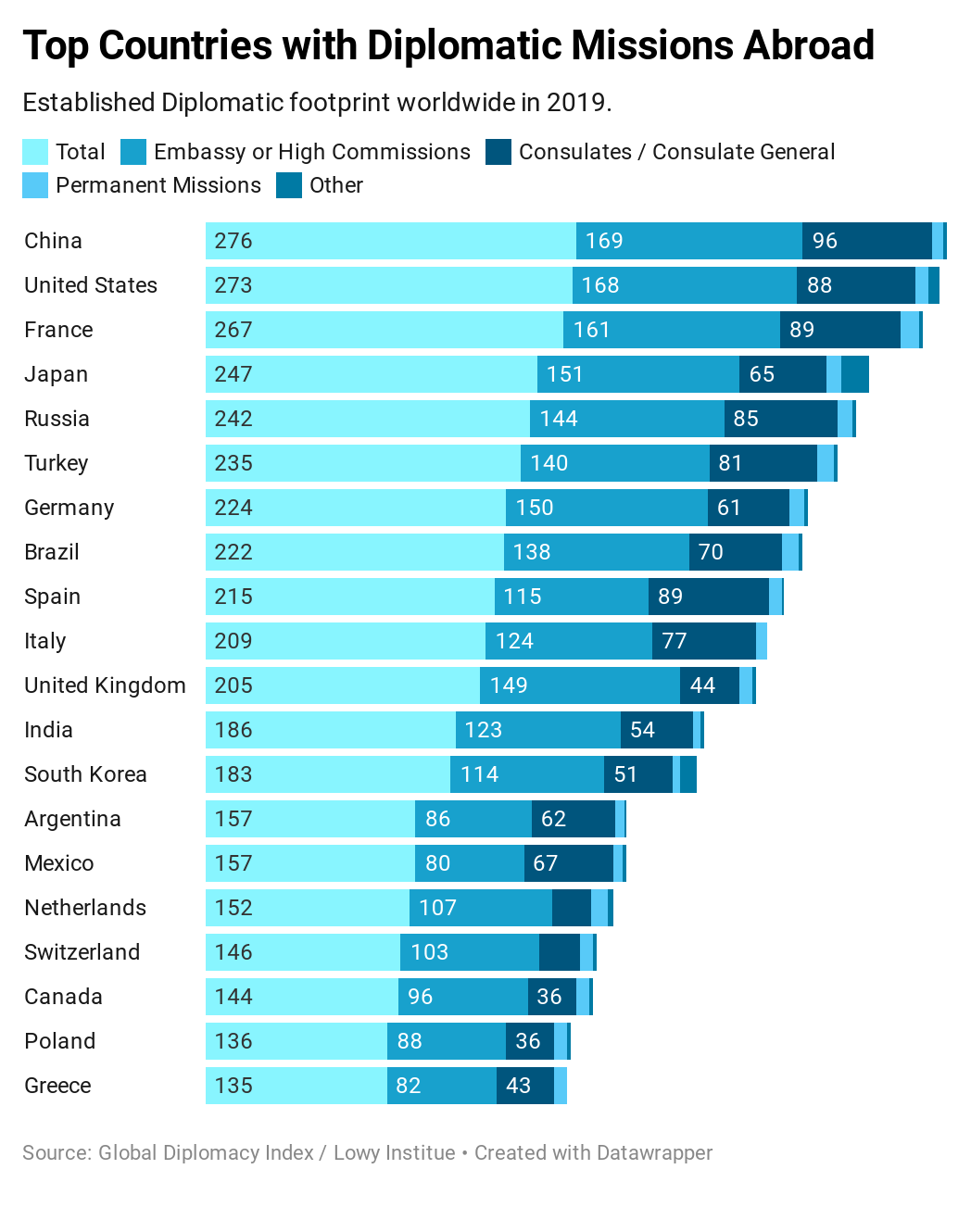 | | | | | | |
| --- | --- | --- | --- | --- | --- |
| | Total | Embassy or High Commissions | Consulates / Consulate General | Permanent Missions | Other |
| China | 276 | 169 | 96 | 8 | 3 |
| United States | 273 | 168 | 88 | 9 | 8 |
| France | 267 | 161 | 89 | 15 | 2 |
| Japan | 247 | 151 | 65 | 10 | 21 |
| Russia | 242 | 144 | 85 | 11 | 2 |
| Turkey | 235 | 140 | 81 | 12 | 2 |
| Germany | 224 | 150 | 61 | 11 | 2 |
| Brazil | 222 | 138 | 70 | 12 | 2 |
| Spain | 215 | 115 | 89 | 10 | 1 |
| Italy | 209 | 124 | 77 | 8 | 0 |
| United Kingdom | 205 | 149 | 44 | 9 | 3 |
| India | 186 | 123 | 54 | 5 | 4 |
| Korea Republic of (South Korea) | 183 | 114 | 51 | 5 | 13 |
| Argentina | 157 | 86 | 62 | 7 | 2 |
| Mexico | 157 | 80 | 67 | 7 | 3 |
| Netherlands | 152 | 107 | 29 | 12 | 4 |
| Switzerland | 146 | 103 | 30 | 10 | 3 |
| Canada | 144 | 96 | 36 | 10 | 2 |
| Poland | 136 | 88 | 36 | 9 | 3 |
| Greece | 135 | 82 | 43 | 9 | 1 |
| Indonesia | 132 | 94 | 34 | 3 | 1 |
| Hungary | 131 | 86 | 35 | 7 | 3 |
| Portugal | 128 | 71 | 48 | 8 | 1 |
| Chile | 128 | 70 | 51 | 6 | 1 |
| South Africa | 124 | 106 | 14 | 2 | 2 |
| Belgium | 118 | 82 | 22 | 9 | 5 |
| Australia | 118 | 81 | 31 | 4 | 2 |
| Pakistan | 117 | 85 | 30 | 2 | 0 |
| Czech Republic | 116 | 90 | 19 | 5 | 2 |
| Saudi Arabia | 114 | 96 | 15 | 2 | 1 |
| Malaysia | 107 | 80 | 23 | 3 | 1 |
| Taiwan* | 107 | 15 | 2 | 1 | 89 |
| Sweden | 104 | 88 | 8 | 7 | 1 |
| Israel | 104 | 77 | 20 | 6 | 1 |
| Norway | 99 | 79 | 9 | 10 | 1 |
| Austria | 98 | 80 | 9 | 7 | 2 |
| Thailand | 98 | 65 | 29 | 3 | 1 |
| Vietnam | 96 | 69 | 22 | 4 | 1 |
| Denmark | 89 | 67 | 14 | 6 | 2 |
| Ireland | 87 | 66 | 14 | 6 | 1 |
| Philippines | 87 | 60 | 23 | 4 | 0 |
| Finland | 85 | 70 | 6 | 6 | 3 |
| Slovak Republic | 81 | 63 | 8 | 8 | 2 |
| Bangladesh | 75 | 57 | 16 | 2 | 0 |
| New Zealand | 72 | 50 | 17 | 4 | 1 |
| Sri Lanka | 67 | 51 | 13 | 2 | 1 |
| Lithuania | 61 | 40 | 12 | 8 | 1 |
| Slovenia | 54 | 41 | 5 | 7 | 1 |
| North Korea | 52 | 47 | 3 | 2 | 0 |
| Singapore | 50 | 28 | 17 | 4 | 1 |
| Latvia | 47 | 37 | 3 | 7 | 0 |
| Estonia | 44 | 36 | 2 | 6 | 0 |
| Myanmar | 44 | 36 | 6 | 2 | 0 |
| Mongolia | 43 | 30 | 11 | 1 | 1 |
| Brunei Darussalam | 42 | 35 | 4 | 3 | 0 |
| Nepal | 39 | 32 | 6 | 1 | 0 |
| Lao People's Democratic Republic | 39 | 26 | 10 | 3 | 0 |
| Cambodia | 38 | 25 | 10 | 3 | 0 |
| Luxembourg | 37 | 26 | 7 | 3 | 1 |
| Iceland | 25 | 16 | 4 | 5 | 0 |
| Bhutan | 9 | 5 | 2 | 2 | 0 |
Source: Global Diplomacy Index 2019 / Lowy Institute