Dubai has emerged as the world's most important hub for wealthy individuals and the number of millionaires projected to increase in UAE region by 14% in 2024, according to Knight Frank report.
UAE needs more immigrants to meet the demand. Immigrants constitute nearly 90 percent of the UAE's population, only 20% are locals.
Weak passports severely restrict the travel freedom of many people due to visa restrictions. A Second passport offers wealth of mobility to holders of weak passports, for example the possibility to travel to United Kingdom, EU schengen area, Russia, China for business, tourism and visiting family and friends.
A significant number rich population with weak passports live, work and do business in Dubai with their families. Visa restrictions on weak passport holders, drive demand for second passports in the UAE and MENA region.
A second passport is very popular with UAE residents who are  Pakistanis, Syrians, Indians, Lebanese, Egyptians, Palestinians, Jordanians, Iraqis and UAE nationals.  The demand for second passports went by by 30% in UAE as these wealthy expats are willing to spend considerable amount of money on a passport to travel freely without visa restrictions. A second passport saves considerable time, money on the long run.
The Caribbean schemes are most popular such as Grenada, Dominica, Antigua, St Kitts and St Lucia according to Citizenship consultants based in UAE, due to low pricing, easy hassle free citizenship procedure, and passport benefits.
Why UAE is attractive?
 United Arab Emirates is a hub for expats and international migrants, hosting more than 8 million people
 The MENA region accounts for 60% of the second-citizenship market for ultra-high net worth individuals with UAE taking half the market share.
Dubai has become a magnet for foreign HNWIs with 8,600 foreign multi-millionaires and 963 UHNW population. The millionaires in the MENA region is expected to rise to 500,000 by 2020, with many looking for alternative investment options that offer them mobility and security
UAE has recently eased visa restrictions, now allows citizens of over 100 countries arrive visa free or visa on arrival.
UAE has recently introduced gold card scheme offering permanent resident status for the first time attracting wealthy foreigners.
Major Citizenship events and conferences takes place in Dubai and Abu Dhabi every year
Tax free status – No personal income tax in the United Arab Emirates. As such, there are no individual tax registration or reporting obligations.
Dubai has emerged as the major airline hub for international travel connecting Asia, Europe and America. Rooughly 56 million travelers make stopovers at Dubai international airport every year.
UAE is renowned for luxury property developments beyond any imaginations.
Dubai has embassies and consulates serving economic citizens in the UAE region
Large number of passport agents, citizenship consultants and property developers are based in Dubai attracting clientele.
Wealth in UAE
The wealth in UAE is expected to grow further due to large inflows of foreign investments in real estate, trade and services sector.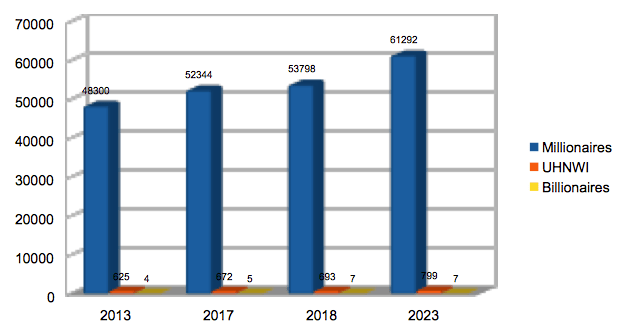 | | | | |
| --- | --- | --- | --- |
| | Millionaires | UHNWI | Billionaires |
| 2013 | 48300 | 625 | 4 |
| 2017 | 52344 | 672 | 5 |
| 2018 | 53798 | 693 | 7 |
| 2023 | 61292 | 799 | 7 |
Source: Knight Frank Report