Malta has refused significant number of applications failing due diligence checks under Individual Investor program (IIP).
According to the latest OrIiip report, data shows IIP agency has rejected one in three applications (33%) for 2018/19 for the citizenship by investment program.
Since the launch of the scheme a total of 336 applications have been rejected until mid Jun 2019. The average refusal rate for IIP scheme is 23% for all the years since the launch.
Malta IIP is only limited to 1800 successful investors until the program closes. So far, 1198 investor applications (66%) have been approved filling the quota.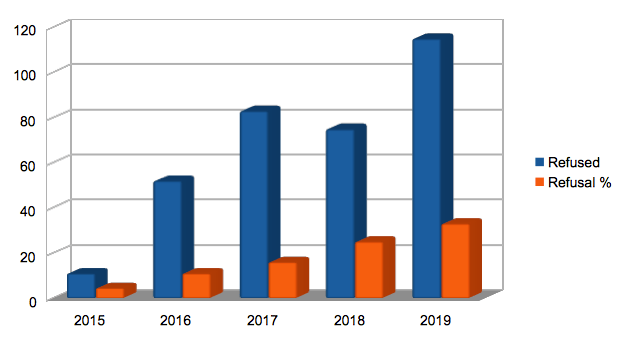 | | | |
| --- | --- | --- |
| | Applications Refused | Refusal rate % |
| 2015 | 11 | 4.5 |
| 2016 | 52 | 11 |
| 2017 | 83 | 16 |
| 2018 | 75 | 25 |
| 2019 | 115 | 33 |
Appeals
The Minister's decision on any IIP application shall not be subject to appeal or review. The Oriip regulator regulator does not have any power review any decisions taken by the Minister including rejections.
The IIP Regulator received a total of 29 requests for a review of the Minister's decision in rejecting their respective applications for Maltese citizenship in terms of the relative IIP Regulation since the launch of the scheme.
How are applicants vetted?
First Agents are required to screen the applicants for initial due diligence checks before passing the file to IIP agency.
MIIPA carries out internal/external four-tier due diligence (by commissioning due diligence reports from international companies and by liaising with the local Police Force). Checks are also carried out with Medical authorities. Once the MIIPA formulates an opinion (on applicants' suitability) this is communicated to the Minister who takes a decision (approving/rejecting the application). In turn, the MIIPA communicates this decision to the Agent.
Four tier checks were always carried out including international databases searches, clearance from local Police authorities and the commissioning of reports to be drawn up by external due diligence companies. All collected data was duly analysed thoroughly through the use of an internal risk matrix which ensured that every application was examined in a consistent manner. Checks did not focus solely on the main applicants but included all the dependants, benefactors (whenever applicable) and other third parties forming part of their business and social circles.
MIIPA also works with FIAU in suspicion of money laundering activities, details of the applicant and agent involved were  reported to the FIAU.