Are Citizenship by investment programs (CIP) more popular than Golden visas ?
We looked into the number of applications approved for year 2018 and the results are quite surprising. The CBI industry is growing at a must faster pace than we initially thought.
The CBI industry grown from $2 billion to $5 billion in just 5 years adding $3 billion, while the GV industry grown to $12 billion adding only $2 billion during the same period. This clearly shows CBI industry is growing at a much faster pace in terms of popularity for investment passports.
Take a look at the infographic below.
CBI / Golden Visa
Applications Approved for 2018 for the most popular CBI schemes and Golden visa residence schemes worldwide.
These are the approved applications for golden visas and CBI schemes for the year 2018. US, Canada (Quebec), Cyprus have yearly maximum quotas for applications.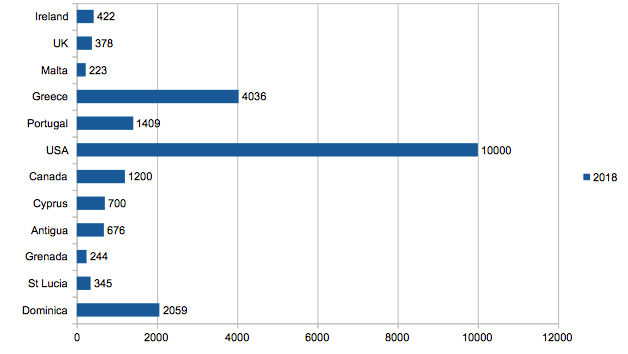 Note: Data compiled from Official Govt sources and CIUs. Please note for Antigua there is no data for approved applications, only received applications available. No data available for St Kitts and Nevis as this country publishes no official report. EB-5 every year goes no more than 10,000 visas each year. For Malta we took into account IIP applications approved in 2017-18
$17 Billion Yearly Market
The Citizenship by Investment + Golden visa industry is estimated to be worth about $17 billion annual market. The CBI industry grown  from $2 billion in 2014 to $5 billion by more than a double, while GV industry grown by 20% to $12 billion (from $10bn in 2014).
Canada and United States taking the leading in attracting major share of investments by offering golden visas, closely followed by Europe.
Official and Unofficial
There are about 12 official CBI schemes and 25 Golden visa schemes which are popular. Unofficially there are 20 CBI schemes and  investor visa schemes run in over 100 countries across the Globe.
Citizenship vs Residency
Golden visa schemes only offer residency with a path to citizenship at later stages through naturalization. CBI schemes offer instant citizenship and passport to investors. Significant differences exist between CBI and GV schemes. Many chinese prefer residency instead of citizenship. To some citizenship is not required at all.
Each of the schemes have both pro's and cons. Sometimes going a passport is better than residency as it takes almost the same processing times, but gets the job done. CBI schemes are relatively cheaper than residency schemes.
| | | |
| --- | --- | --- |
| Difference | Golden visa | Citizenship by Investment |
| Type | Residence by Investment program (RBI) | Citizenship by Investment  (CBI) program |
| Investment | Real estate / Govt Bonds / Business | Donation/Real estate/Business |
| Citizenship | After 5 years usually |  Immediate (2-3 months) |
| Physical residence | One or two weeks | Usually none and no requirement to live or visit the country |
| Taxation | Residence based taxation | Citizenship based taxation |
| Family receive | Residence permits |  Passport + Citizenship Naturalization certificate |
| Right to vote |  NO | Usually YES (no in some cases) |
| Visa free movement | Regional (eg. Schengen area) | Worldwide to many countries |
| Dual citizenship | NA | Restricted depending on the origin country. All CBI countries allow dual citizenship |
| Personal visit | Required | NO (required for EU schemes) |
Waiting Times
The problems such as very long years of waiting times, in US and Canada, makes many investors from China and India frustrated finally deciding to apply CBI/GV schemes for Europe.  To many, three months of waiting is far far better than waiting for a visa for years. In Europe, United Kingdom has the fastest golden visa scheme in the world, with waiting times only weeks compare to years.