Cape Verde (or Cabo Verde) is located in the west of African continent with a population of half a million with a $4.3bn GDP.
The Cape Verde archipelago was discovered in 1460 when Portuguese explorers discovered and colonized the islands, establishing the first European settlement.  Today Portuguese is still used as official language in the african island.
Cape Verde is an African country with excellent political and social stability, strategically well located in the Atlantic, ideal for strategic investments.
Cape Verdean passport may be attractive as the country may get visa waiver to schengen countries soon in the future.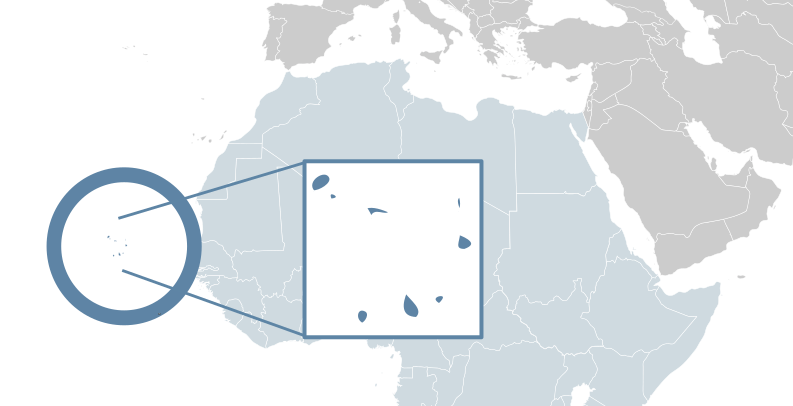 Citizenship for Investors
According to Cape Verde Citizenship Act 2003,  Person who makes a sizable investment of USD 200,000 or more in Cape Verde may be granted citizenship without the residency requirement.
Eligible Investments
Cape Verde seeks active investments in Energy, Tourism and Infrastructure projects. Foreigners investing in the country must create jobs and contribute significantly to the economic development of the country.
There is no specific limits on investments to be made in the island.
Foreigners have restricted in fishing and shipping vessels retained only for locals.
Equality of treatment and non-discrimination are granted to all investors, but the use of incentives and contracts can create advantages for large investors.
Real Estate
All natural or legal persons, regardless of nationality, may acquire ownership rights or obtain special permits to occupy and use land.
Agricultural land can only be leased and land cannot be purchased near shores. Access to land for tourism can also be a challenge. Land parcels within 80 metres of the sea shore must remain in the public domain. These lands are not for sale, but they can be granted for concessions to private developers (usually for a period of 10 to 20 years).
Cape Verde Citizenship
Acquisition of Citizenship can be:
By marriage – the spouse of a Cape Verdean national can acquire citizenship if declaring to acquire it at the time of the marriage.. Obs. The declaration of nullity or the annulment of marriage does not impair the acquisition of citizenship by the spouse who got it in good faith;
By descent – the minor or handicap child of father or mother who has acquired Cape Verdean citizenship;
By adoption – the displaced minor, adopted by a cape Verdean national or the foreign minor or of unknown citizenship adopted by a Cape Verdean national;
By naturalization – can be granted to the foreigner who normally resides in Cape Verdean territory for at least five years, who is considered of age or emancipated by the State laws of Cape Verde, has moral or civil fitness, has capacity to take care of him/herself and provide for him/herself.
Cape Verde Passport
Cape Verdean citizens have visa-free or visa on arrival access to 65 countries in 2019.  These countries South Africa, Singapore, Panama, Hong Kong, Malaysia.
In 2019, Cape Verde offered visa waiver to EU countries for short stay visits. Considering this In the future, Cape verdean nationals may be eligible for schengen visa waiver.