Greece offers  Financially Independent Visa (FIV) to third country nationals to who are economically independent or self employed.
It is one of the cheapest alternative to Greek golden visa scheme, only a few foreigners know of, as it requires only minimum amount of money show in your bank account, instead of golden visa which have to buy a property for €250,000 plus taxes.
Benefits
Cheapest Greek residency with low investment
Attractive for retirees and pensioners who want to live in Greece
Free movement in schengen area with residence permits issued by Greece
Startups, small business owners and entrepreneurs can benefit with this scheme.
FIV leads to permanent residency after 5 years of living
No requirement to live permanently in Greece
Access to health care and free education
According to Art. 20 of the Law on Immigration and Social Integration (4251/2014) (former Article 24 of Law 3386/2005) citizens of third countries and members of their families wishing to retire in Greece or otherwise live in Greece without working, can apply for a Greek residence permit based on independent income or funds from outside the country via retirement benefits or a pension, virtual job, business, savings or grants.
Applicants only have to visit Greece once to obtain a residence permit for financially independent persons. Family members can also qualify. There is no requirement to permanently live in Greece with this visa.
The whole procedure takes 10 to 14 weeks or atleast 2-3 months.
Update: The Greek law 4686/2020 which was recently approved in parliament was published in Government gazette on 12.05.2020, requires Financially independent visa holders to live in Greece for six months or more in order to renew their residence permits. Before it was not required to live in Greece.
FIV vs Golden visa
Here are the important differences between Financially independent visa and Golden visa scheme in Greece.
| | | |
| --- | --- | --- |
| | Financially Independent Visa (FIV) | Golden Visa (GV) |
| Minimum |  €50,000 (atleast proof of funds) |  €250,000 in real estate (investment) |
| Who can qualify? | Self Employed / Entrepreneurs / Retirees |  Investors |
| Residence permit | 1-2 years (renewable) | PR  5 years (renewable) |
| Citizenship Naturalization | After 7 years | After 7 years |
| Physical residence | No requirement to live | No requirement to live |
| Eligibility | Only Non-EU nationals can apply | Non-EU citizens |
| Free movement | Schengen Area | Schengen Area |
| Permanent residence | after 5 years | immediate |
| EU/EEA citizens | cannot apply | cannot apply |
How much it costs?
We recommend main applicant atleast €50,000 to show in your bank account to get a two year visa. It is not an investment but only proof that you can support financially. You will get visa for 2 years.
Please expect additional 4,000€ legal costs. The breakdown is given below
Applicants only to show living expenses of €2000 per month, Spouse additional 20% (€ 400), and children 15%  (€ 300) for each child.
Legal and additional costs: €4,000 (and an extra €1,500 for the spouse and €1,000 per child) see below
This visa is not an investment visa. You just have to show unspent money from your bank account.
| | |
| --- | --- |
| Legal fees | €2500 for the main applicant + €500 per family member (includes spam |
| Power of attorney to the lawyer | €100 |
| Visa stamps | €1500 |
| Application fee | €450 per applicant(no fees apply to children under 18 years of age) |
| Residence permit fee | €16 per applicant |
| Medical insurance | €220–740 per year, depending on coverage |
| Bank account opening fees | €750 |
How to apply?
Apply for D visa (if you are outside Greece or schengen area) or if you already have a schengen visa, our lawyers will help you visit Migration office  to apply for residence permit application.
You will also need to show proof  housing, health coverage and show enough money to live in Greece.
With D visa approved, come to Greece to take your residence permit within 30 days of arrival.
We have discontinued Greece FIV program. We do not assist clients at this moment for this visa.
FIV Statistics
Greece has issued a total of 1,418 FIV visas as of April 2019, according to Hellenic migration office report.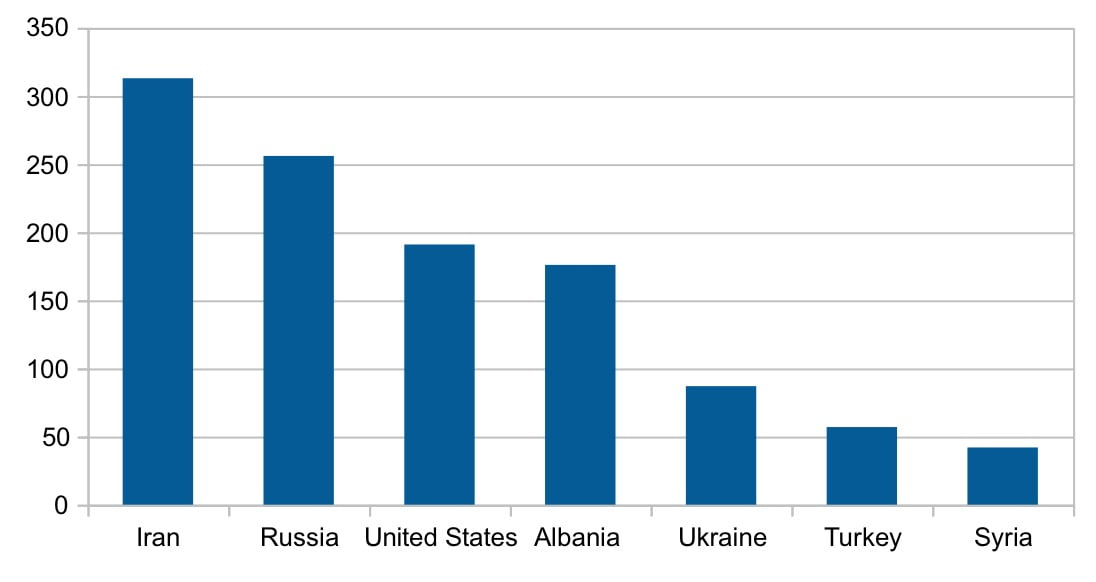 The top countries for economic independent visa recipients are
Iran – 313
Russia – 256
United States – 191
Albania  – 176
Ukraine – 87
Turkey – 57
Syria – 42