Albania is set to make amendments to the citizenship law that will allow foreign investors to acquire citizenship for investments.
The proposed draft changes to the law on Citizenship will allow specific categories, foreign investors included, to obtain Albanian citizenship. The draft-law will increase the number options for acquiring albanian citizenship
The Interior Minister recently announced that Albanian passport will also be available for investors of national interest, in cases when the Republic of Albania has an economic, scientific, cultural and sports interest, as well as national interest, meeting certain conditions.
In 2012, Albania proposed offering citizenship to investors who invested atleast €100,00 in the country bringing economic benefits.
Minimum Investment
In a recent Henley conference in London, Prime Minister of Albania said, the government is seriously considering a citizenship by investment (CIP) and in the early stages of planning
Investors will get a 10 year tax holiday and other benefits such as exemption of VAT
EU membership
Albania applied for European Union membership on 28 April 2009. Following the steps of countries joining the EU in 2004, Albania has been extensively engaged with EU institutions, and joined NATO as a full member in 2009.
Albania Passport
As of 2 July 2019, Albanian citizens had visa-free or visa on arrival access to 113 countries and territories. Albanian passport currently has visa free travel to EU schengen area, Singapore etc.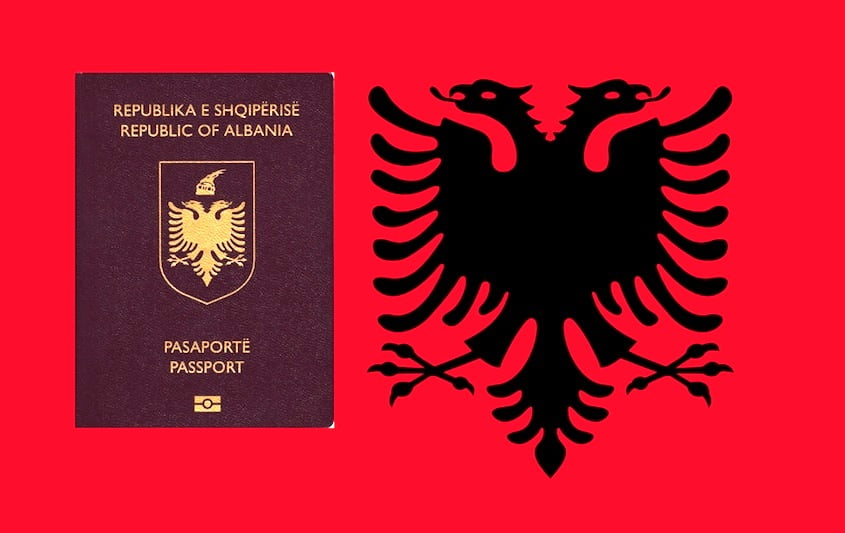 Albanian passport is one of those passports with the most improved rating globally since 2006 in terms of number of countries that its holders may visit without a visa.
Albani issues biometric passports since 2009.  The passport costs 7,500 lekë (€50) and is valid for 10 years.
Naturalization
Under the current law, foreigners acquiring the Albanian citizenship through naturalization, need to meet the following conditions:
Be at least 18 years old;
Have lawfully resided in the territory of the Republic of Albania, for at least 5 years;
Have accommodation and sufficient financial means;
Hasn't been penally prosecuted in his own country or in the Republic of Albania for penal crimes charged with more than 3 years of imprisonment (not for political reasons);
Have at least basic knowledge of the Albanian language;
Granting of Albanian citizenship does not hinder the security and defense of the Republic of Albania.
Dual Citizenship
Albania currently allows the dual citizenship. The Albanian citizens freely can apply the acquiring of another citizenship without losing the Albanian one. Foreigners also are not hindered to apply for the Albanian citizenship, without renouncing that of the country they originate.