Portugal ranked as the best retirement country in Europe. Portugal took first spot in Europe and 7th place in overall rankings for retirement.  Portugal took top scores among european countries for healthcare, finance, lifestyle and governance.
Retaining 7th position in this year's index, Portugal has a warm climate, friendly people and a relaxed pace of life. English is widely spoken in metropolitan areas and in coastal regions popular with expatriate residents, but some Portuguese is needed in more remote regions.
In Portugal, locals generally make a sincere effort to make visitors and expats feel welcome. Another reason is the affordable lifestyle. Portugal is the second least expensive country in Europe, after Bulgaria. .
Portugal also ranked fourth in the Global Peace Index 2018. Living here is inexpensive compared to other European nations and relatively stress free.
South american countries dominated the ranking for attracting retirees, according to Global Retirement Index 2019.
International Living magazine recently released its latest Annual Global Retirement Index, which lists the top 10 destinations for would-be retirees who want to get away from it all. The survey looks at a number of factors affecting quality of life in each place including climate, local lifestyle, cost of living, healthcare, visa and residency requirements and how easy it is for newcomers to fit in once they arrive.
The Portugal's golden visa scheme also attracts number retirees to buy a home in Portugal for retirement. International buyers of property in Portugal qualify for long term permanent residence permit
Best Retirement countries in Europe
Portugal
Spain
France
Italy
Malta
Ireland
Worldwide Rankings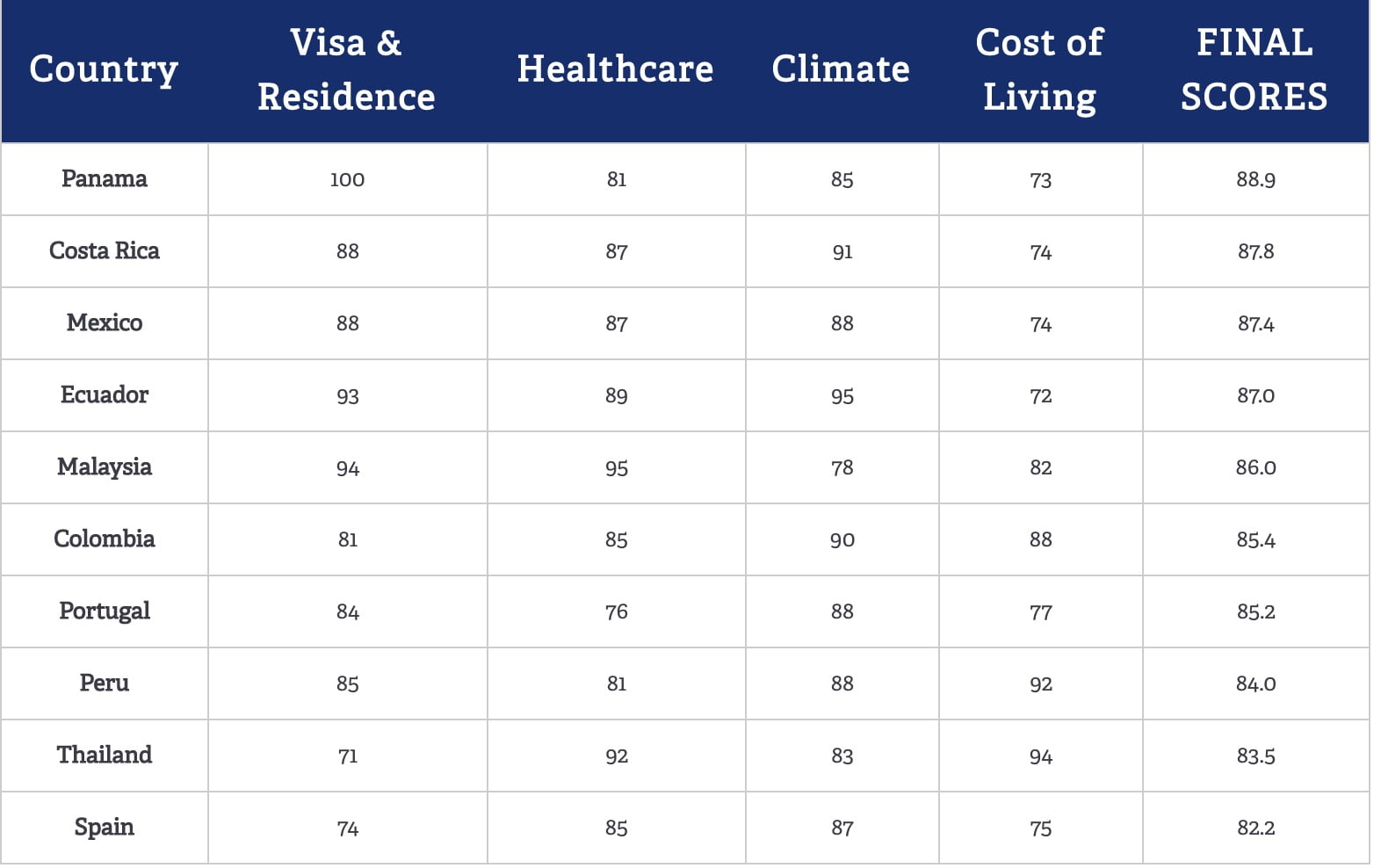 Source: International Living
Ranking factors
The rank and score each of the 25 countries in the index across 13 categories:
• Buying & Investing this looks at the value of real estate and how easy it is to buy or rent your dream home overseas. In this category, we assess things like the price of houses and condos in areas an expat retiree would like to live in, annual property tax, how much it costs to build, and if there are any restrictions on expats owning property. We also asked out correspondents whether there are good opportunities to invest in property as a means of earning a rental or capital return.
• Renting we asked our expat correspondents to give the price of a month's rent on a range of properties in areas where a retiree would like to live. We also asked how easy it is to find a place to rent (both short- and long-term), and what sort of property a sample rent of $1,000 a month would provide.
• Benefits & Discounts in some countries, you as a retiree can get discounts on lots of things, from airfare and food to electricity and public transport. All the benefits and discounts retirees can get in the country are factored into this category.
• Visas & Residence if you can't legally and easily call a country home, it won't be much good as a retirement spot. This category looks at things like how easy it is to get permanent residence and if there are any special residence options for retirees.
• Cost of Living a country has to be affordable to be a great retirement spot. It's that simple. And to assess how affordable each country is, we got our experts on the ground to fill out a comprehensive monthly budget. Everything from the cost of a liter of milk to a bottle of beer to a movie ticket was factored in.
• Fitting in isn't just about making friends with locals and expats. It's also about feeling at home. Can you pick up your favorite North American comforts when you need them? And how easy is it to adapt to the local culture? This category looks at all of these things.
• Entertainment & Amenities There's a lot that factors into how interesting a place is. Does it have lots of museums, gigs, and exhibitions? Are there lots of outdoor activities? And can you catch a movie in English when you want to? Things like this factor into Entertainment & Amenities.
• Healthcare In this category, we put our experts to the test like never before. How much will you have to pay for things like laser eye surgery, a tooth crown, or a blood transfusion? Can you get common medications for things like asthma and diabetes? And do you need a prescription to get a refill? When it comes to assessing healthcare, we factor in both quality and price to give you a fair and balanced view.
• Healthy Lifestyle Things like great weather and an abundance of fresh food all factor in to how healthy a lifestyle you can have in your overseas home.
• Development You wouldn't want to live anywhere where you couldn't stream your favorite movies, call home, or access reliable electricity. You'll also want quality roads and an efficient public transport network. These are just some of the factors that feed into the Development category.
• Climate Moving abroad gives you the chance to escape from the extremes of weather back home. You can find places overseas where the weather is just perfect for you. In this category, we rate the climate of each country, factoring in things like rainfall, temperature, and humidity.
• Governance The world can be scary and our fate uncertain. So knowing your new home respects personal freedom, keeps the bureaucracy to a minimum, and offers a stable and safe environment in which to enjoy retirement is a nice feeling. You'll also appreciate an efficient banking system.
• Opportunity Retirement doesn't need to be a grinding halt. Maybe you have a business project you'd like to try out, or perhaps you've thought about supplementing your income with some freelancing work or online employment. We've examined how well the local authorities support small business, whether it's easy to work remotely, and whether there's a strong economy in each country.