Today, we are launching Sovereign Citizenship Fund   – A new sovereign wealth fund model for revenues obtained from citizenship by investment programs (CIP) fully owned, managed and controlled by the state.
It is a first of kind sovereign fund in the CBI industry, fully funded by citizenship revenues as assets. It  is carefully structured offering 90% liquidity, stabilization economy, paying debts, and very importantly contribute to disaster management and social welfare projects such as hospitals, education, sports, research and science under one single package.
Fund can be held in any currency
Portfolio can be decided by governments.
Fully customizable, open and free of charge
What is Sovereign Wealth Fund?
Most Sovereign Wealth Funds are funded by revenues from commodity exports (oil, gas, copper, diamonds etc) or from foreign-exchange reserves held by the central bank and are invested globally in precious metals, stocks, bonds, real estate and hedge funds and the reserves are held by central bank. Usually, these funds are set up with one or more of the following objectives:
Insulate the budget and economy from excess volatility in revenues,
Help monetary authorities sterilise unwanted liquidity,
Build up savings for future generations, or
Use the money for economic and social development.
Sovereign Citizenship Fund
The Sovereign Citizenship Fund (SCF) will be free, open and fully customizable model for governments that depend on CIP revenues for disaster management and social welfare projects. This fund is a best war chest for uncertain times of small countries. The model requires all the assets in the fund are insured under one single asset protection umbrella
Very importantly, this fund is  specifically designed for governments have budgetary surpluses and have little or no international debt.  This is fully funded by one time contribution option in exchange for citizenship.
A special committee appointed by government will operate the sovereign fund in a transparent way, manage and make decisions on the fund to prevent corruption and misuse of funds.
We have designed the fund assets to be more liquid for immediate consumption and rest invested for future spending. Immediate spending of sovereign fund assets risks causing the economy to overheat, and it is more desirable to spend the assets at low inflation.
Asset Portfolio
The Asset portfolio will comprise of 90% liquid available for immediate consumption of CIP countries. This can be fully customized by governments on where to invest in state's interest.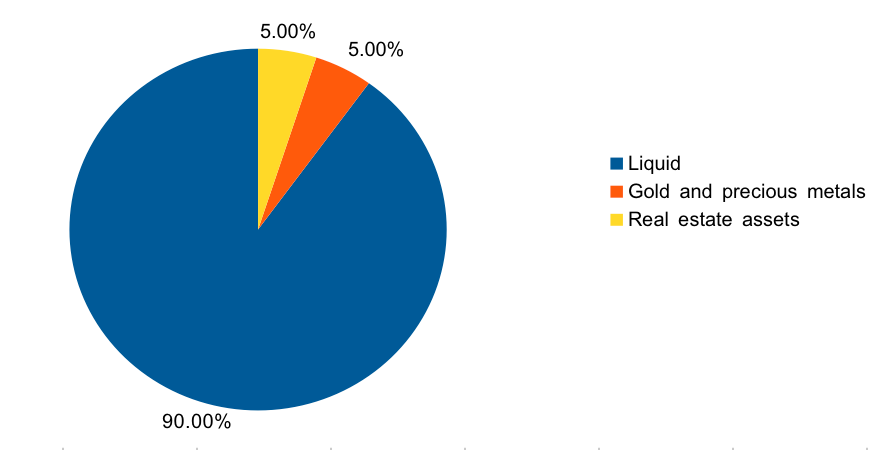 Asset Spending
The Sovereign fund can be spent on social and welfare projects, and most importantly reserved savings for natural disasters (hurricanes) and also future savings (25%) and the rest for schools education, hospitals, health care, housing, research and innovation, sports, cultural activities (museums). The Special committee will make decisions on how and when to spend.
This model can also be fully customized by the state which owns the fund. A special committee will make approve decisions on spending.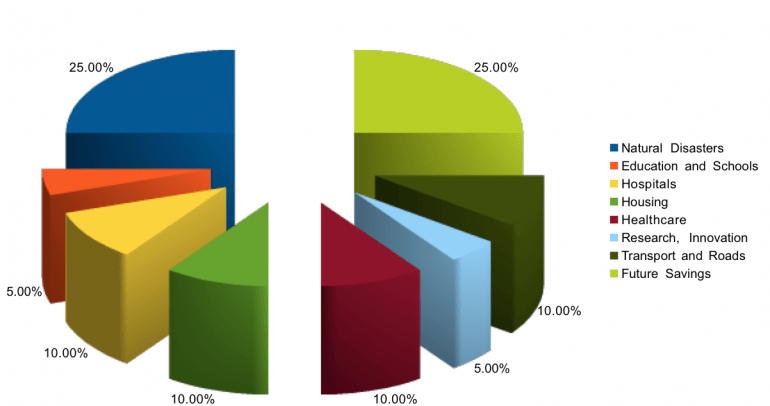 Special Committee
The model also requires governments must form a special member committee to regulate and make decisions on Sovereign citizenship fund such as annual spending, portfolio, allocation of reserves etc. This will prevent corruption, abuse and the committee will function in a fully transparent manner publishing annual reports to public.
Assuming the fund has more liquidity, the interest earnings collected from the fund can be used to pay for expenses and salaries running the special committee.
Citizenship by Investment Unit (CIU)
The Citizenship Unit of the State can function independently from the revenues obtained from
Passport fee
Application fee
Agent fee
Renewal fee
A surplus of revenues can be reused to upgrade CIU, marketing and upgrading to new technologies (eg biometric passports). These fees will not participate or mix in any way with sovereign fund.
For example, Malta IIP scheme generated 600,000 euros from passport fee and bank charges for the agency. Due diligence fees paid by applicants are fully dispersed to due diligence service providers and does not constitute revenue for governments.
Donations
CBI countries can ask for small donations for non-profit charity work such as caring for the elderly, blind and disabled people from CBI citizens living in diaspora. These charity donations, frequent visits to country further establish real genuine link with the CBI country.
Malta IIP applicants donated €3.5 million euros for philanthropic purposes through 550 donations. This also means each IIP family who are wealthy enough has given away €6,300 euros per donation.
No such donations were collected by other countries. Atleast CBI jurisdictions have to make an effort to ASK for donations for charity work.
Donations will not interfere with sovereign fund.
Government Bonds
Government bonds  are also a commonly used for raising money from public for State and usually paid back fully after five years with an interest.  Cyprus and Saint Lucia are the only two countries that offer citizenship by investment through full investment government bonds. Malta requires  partial 15% of $1 million investment to be invested in Government securities.
Citizenship Revenues
Today there are over 10 CBI schemes running bringing the much needed revenue to countries
| | | |
| --- | --- | --- |
| CBI Country | Year | Fund Revenues |
| St Kitts and Nevis | 1983 – 2018 | USD 1 billion* + |
| Dominica | 1993 – 2018 | USD 600 million* |
| Grenada | 2013 – 2018 | USD 65 million |
| Vanuatu | 2014 -2018 | USD 64 million (VT 7.1 billion). |
| Antigua and Barbuda | 2013 – 2018 | USD 110 million |
| Saint Lucia | 2015 – 2018 | USD 27 million |
| Malta | 2014 – 2018 | EUR 624 million |
| Cyprus | 2013 – 2018 | No fund available |
| Moldova | 2018 – 2023 | EUR 1.3 billion (projected) |
| Montenegro | 2018 – 2021 |  EUR 200 million (projected from 2000 applications) |
*Estimated unofficial figures