The Saint Lucia passport is the biggest climber by two places in the Caribbean  in the 2019 Henley passport rankings with visa free travel to 145 visa free destinations in the world.
St Lucia passport is the  31st powerful passport in the world
The Saint Lucia passport also ranks 7th best CBI passport among citizenship by investment schemes. Among the Caribbean CBI passports, Saint Lucia passport scores 3rd in Henley rankings.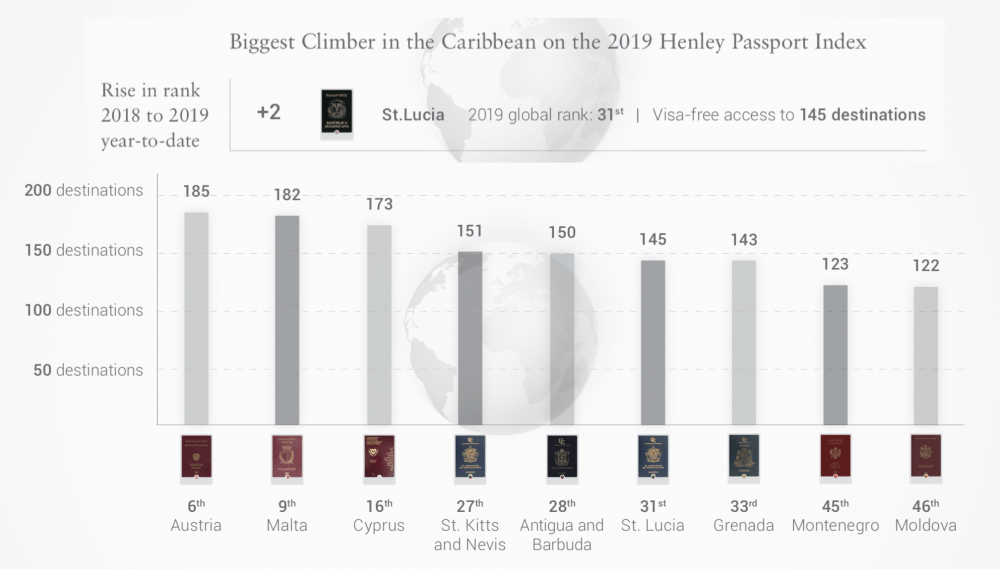 Citizenship by Investment
St Lucia also offers a citizenship by investment program in the Caribbean. Foreign investors are required to pay
USD 100,000 to Government fund or
USD 300,000 Real estate investment
USD 500,000 Government bonds
Joint investment USD 1.5 million invested in Business enterprise projects by each applicant in a total USD 6 million project
Visa free travel
In 2019, Saint Lucian passport had access to 145 visa free countries. Some of these countries are
EU member states

United Kingdom and Ireland

Croatia

Argentina

Moldova

Malaysia

Montenegro

Indonesia

South Korea

Singapore

Panama

Cuba
Visa required
A valid visa required to visit these countries
China,
Russia
United States
Canada
Thailand
United Arab Emirates
Japan
Australia and New Zealand