Cambodia has super interesting citizenship by investment scheme in Asia.  Cambodia offers Khmer citizenship to foreign investors who donate or make an active investment in Cambodia.
The Cambodian CBI program has been running for a number of years only relatively few investors  know about this as the scheme is not widely promoted. Infact, it is the one and only citizenship by investment scheme in Asia.
In June 2018, the Government raised the minimum investment for investment projects from USD 350,000 to USD 1.5 million. Some 1036 foreigners persons acquired Cambodian citizenship by investment as of 2018.
Well known celebrities like Angelina Jolie have Cambodian citizenship. The American actress was awarded citizenship in Cambodia by the king for all her environmental and conservation work in the poverty-stricken country. There are other notable american cambodians who are dual citizens of Cambodia.
CIP Qualifying investments
Foreigners qualify for fast track citizenship in Cambodia with the following investment conditions.
Donation to Cambodia (USD 250,000 or 1 billion riel)
Investment in Government approved project (USD 1.5 million or 6 billion riel)
There is also a third option through residency
Business Investment (USD 350,000 but citizenship after 7 years of legally living)
Update: Please note we do not assist clients with acquiring citizenship in Cambodia.
Citizenship by Investment
Article 12 Cambodian Law of Nationality 1996  provides a path to obtain Khmer nationality (Cambodian) citizenship by investment by donating USD 250,000 cash to the economy of Cambodia.
Article 12:
Any foreigner who has made a donation in cash, to the national budget of from 1,000,000,000 riels or more, for the interest of restoration and rebuilding of economy of the Kingdom of Cambodia, may have right to file an application for khmer nationality, in case when upon he/she has fulfilled the conditions as stated in the sub-paragraphs 1, 2, 5 and 6 of the article 8 of this law.
Article 13:
A foreigner who has shown evidence that he/she had offered any special merit or achievement for the interest of the Kingdom of Cambodia, may file an application for khmer nationality and with no need to fulfill the conditions as stated in the sub-para.3 of the article 8 of this law.
Residency is waived under Article 12,13 for citizenship. You must also satisfy the following conditions in order to be eligible for citizenship by investment
To qualify for citizenship by investment ,foreigners must meet the following conditions.
Above 18 years of age.
No criminal record
Good knowledge of Khmer language and history.
Not pose a threat or danger to Cambodia.
Dual Citizenship
Dual citizenship is allowed in Cambodia
Cambodia Passport
As of 2018, Cambodian passport has visa free travel to 54 countries in the world.  They can travel visa free to Malaysia, Indonesia, Singapore, Thailand, Vietnam
Cambodian Americans
Below are notable Cambodian Americans, including both original immigrants who obtained American citizenship and their American descendants.
Francois Chau – actor; known for his role as Dr. Pierre Chang in Lost
Monirith Chhea – artist originally from Phnom Penh
Arn Chorn-Pond – musician and human rights activist
Bhante Dharmawara – Buddhist monk and teacher; helped resettle thousands of Cambodian refugees in the US; founded the first Cambodian Buddhist temple in the US
Kris Dim – pro bodybuilder
Maya Gilliss-Chapman – founder and CEO of Cambodians in Tech, Miss Cambodian American, 2nd Runner Up
Soben Huon – Miss Utah USA 2006; Miss USA competitor
Yasmin Lee – LGBT pornographic actress
Kalyanee Mam – filmmaker
Sam Meas – first Cambodian-American congressional candidate
Rady Mom – politician, first Cambodian American elected to the Massachusetts state legislature (18th Middlesex District)
Haing S. Ngor – Oscar-winning actor for his performance in the movie The Killing Fields; author, physician
Ted Ngoy – "Doughnut King," entrepreneur and politician
Chanthou Oeur – painter and sculptor
Sopheap Pich – sculptor and artist
Chath PierSath – poet, painter, and humanitarian
Dith Pran (b. 1942) – portrayed in the movie The Killing Fields; photojournalist for The New York Times; human rights activist
Sam-Ang Sam – ethnomusicologist and MacArthur Fellow, noted Cambodian classical music performer
Sophiline Cheam Shapiro – choreographer and dance teacher
Sichan Siv – former U.S. Ambassador to the United Nations Economic and Social Council and the author of Golden Bones
Pou Sohtireak – politician
Narath Tan – sculptor and artist
Loung Ung – author, speaker, Khmer Rouge survivor and activist against landmines
Chhun Yasith – political activist, received life sentence for attempting a coup
About Cambodia
Cambodia is is a country located in the southern portion of the Indochina peninsula in Southeast Asia with proximity to Thailand, with a population of 18 million and GDP of $70 billion in 2018. Pnom-Penh is the capital and largest city.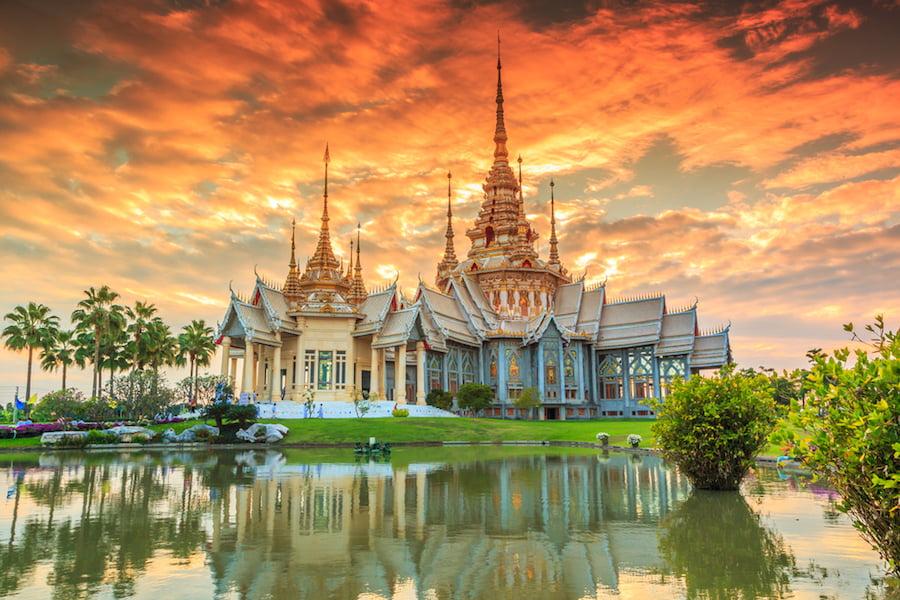 Cambodia gained independence in 1953.
Tourism was Cambodia's fastest growing industry with over 2 million arrivals. Textiles and garments account for over 80% of exports. Phnom Penh is the capital and Khmer language spoken by 97% of population. Riel is the currency (approx 1 USD = 4000 rieles)
Cambodia is a member of the United Nations since 1955, ASEAN, the East Asia Summit, the WTO, the Non-Aligned Movement and La Francophonie.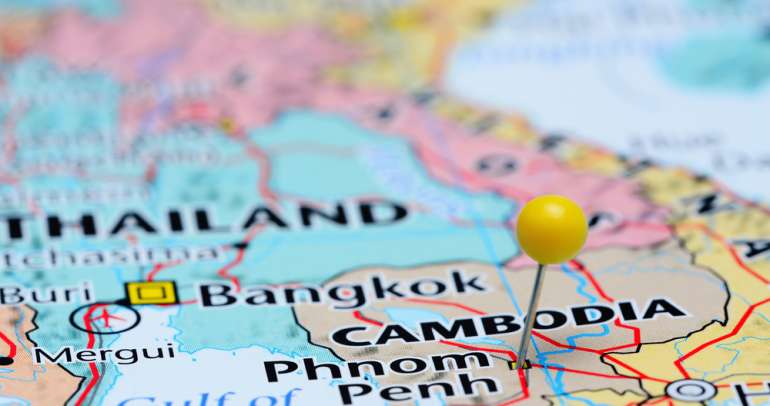 Angkor Wat ( "City Temple") is the most magnificent and largest of all Angkor temples and the top tourist attraction in Cambodia. Built around the first half of 12th century by King Suryavarman II, the temple's balance, composition and beauty make it one of the finest monuments in the world.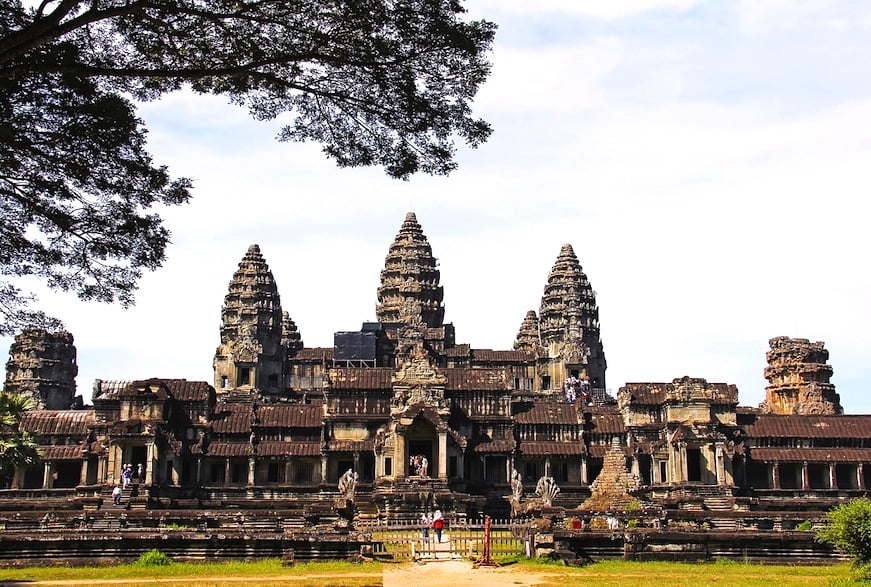 Built around 12th century the Bayon temple features a sea of over 200 massive stone faces looking in all direction.