San Marino is the third smallest country in Europe, after Vatican City and Monaco with a population of 33,000 and approximately 5000 foreign residents. It is also the fifth smallest country in the world. San Marino is an enclaved microstate surrounded by Italy, situated on the Italian Peninsula on the northeastern side of the Apennine Mountains. The country's economy mainly relies on finance, industry, services and tourism. It is among one of the wealthiest countries in the world in terms of GDP (per capita), with a figure comparable to the most developed European regions.
San Marino is considered to have a highly stable economy, with one of the lowest unemployment rates in Europe, no national debt and a budget surplus. It is the only country with more vehicles than people.
San Marino is not a European Union member and euro is used widely in the country.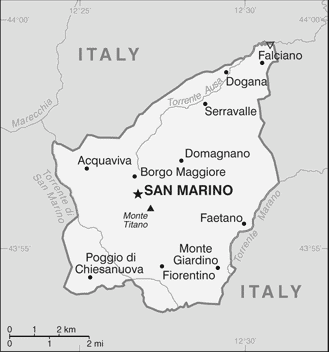 Tourism and banking are the country's main source of revenue. The corporate profits tax rate in San Marino is 19%. Capital gains are subject to a five per cent tax; interest is subject to a 13% withholding tax.
San Marino offers economic residence by investment (RBI) scheme to foreign investors.
Economic Residence Scheme
Property investment of €500,000
Government bonds €600,000 for 10 years (non-interest bearing)
Residency for economic reasons (create 3 jobs and guarantee  € 75,000 deposit)
The Economic Residence by investment scheme (elective residency) limited quota for 50 per year. It is possible for foreigners to become permanent resident after five years of living.
San Marino Citizenship
Citizenship is quite difficult and takes a lot of time.
Sammarinese citizenship possible for foreigners who legally reside in in the territory of San Marino for a minimum of 30 years for citizenship. Dual nationality is not allowed and one must renounce previous citizenship.
San Marino Passport
The San marino passport is one of the most exclusive and best passport in the world.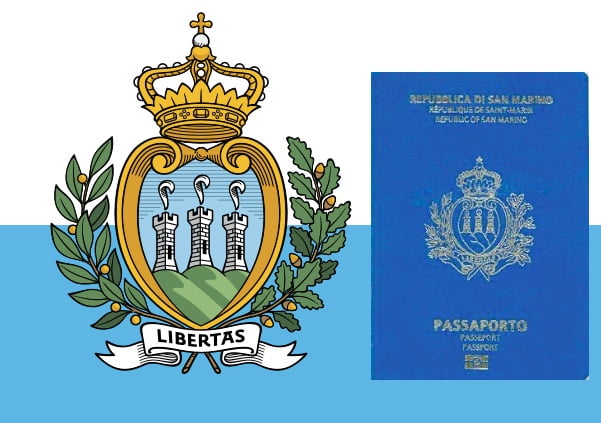 As of 2018, the Sammarinese passport ranks 19th powerful in the world with 168 visa free destinations (US, Canada, UK, Ireland, Australia etc).