Latvia launched a Golden Visa Programme in 2010. Initially started as a post-2008 crisis economic development tool, at some point it acquired renewed political significance.
When the scheme launched in 2010, foreigners could acquire the right to reside in Latvia, an EU Member State by buying a property in the countryside for a minimum of EUR 71,150 or in Riga for EUR 142,300 making the Latvian Golden Visa one of the best bargains in Europe.
During the programme's first year approximately 300 people applied.
The number grew rapidly and by 2014 (the year that Russia annexed Crimea) it increased to nearly 6,000. Almost 90% of the applicants originated from the ex-Soviet Union, predominantly Russia. Latvia appears attractive for this particular group as Russian is widely understood in Latvia, with 25% of the population being Russians.
In response to increasing concerns about applicants,  Latvia introduced entry quotas, tighter background checks and a higher participation fee of EUR 250,000. These measures led to a significant decrease in the number of granted permits and more visa refusals. The main cause for refusal was "risk of spying", followed by "inability to prove legality of applicant's income".
By the end of 2017, the programme had lost attractiveness. While it did not give a massive boost to business, it brought EUR 1.44 billion mostly from property deals.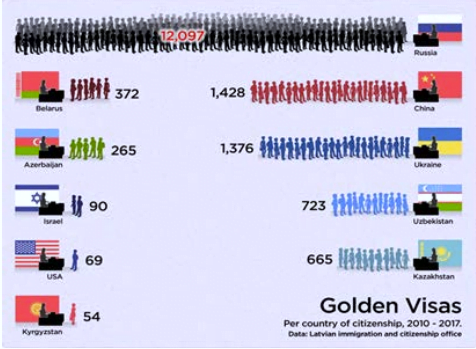 Golden visas issued from 2010 to 2017
During the seven year period, Latvia issued 17,139 golden visas to foreigners
Russia – 12,097
China – 1428
Ukraine – 1376
Uzbekistan -723
Kazakhstan – 665
Belarus – 372
Azerbaijan – 265
Israel – 90
United States – 69
Kyrgyzstan – 54
The Latvian golden visa scheme is currently still running requiring EUR 250,000 investment in real estate or government bonds. The business investment option is much cheaper and costs around EUR 100,000.
More information is available here